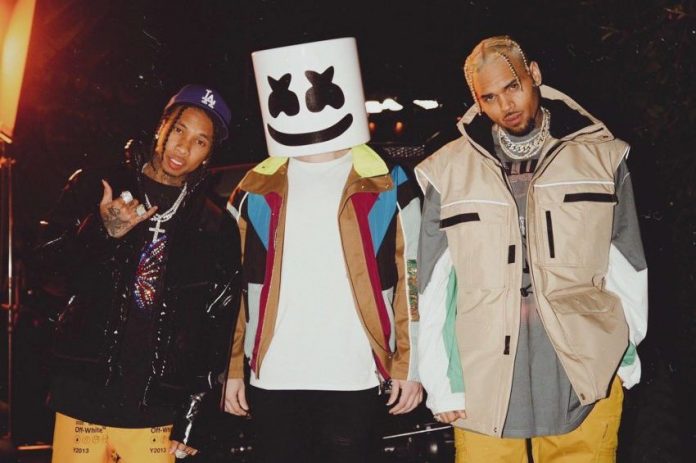 There is some drama in the music world, imagine that. Some people love it, some people hate it, some pretend to not like it, others avoid it at all costs. It is a part of the game, but for those interested, American DJ and producer Marshmello has found himself mixed up in it.
While Marshmello may like to keep it mellow, obviously not everybody feels the same way. After recently collaborating with Chris Brown and Tyga in the newly released track "Light It Up", Scottish artists CHVRCHES, who previously collaborated with the iconic Mello took to Twitter to state their disgust of his actions of teaming with people of infamy, and boldly stated:
"WE ARE REALLY UPSET, CONFUSED AND DISAPPOINTED BY MARSHMELLO'S CHOICE TO WORK WITH TYGA AND CHRIS BROWN..WE LIKE AND RESPECT MELLO AS A PERSON BUT WORKING WITH PEOPLE WHO ARE PREDATORS AND ABUSERS ENABLES, EXCUSES AND ULTIMATELY ENDORSES THAT BEHAVIOR. THAT IS NOT SOMETHING WE CAN OR WILL STAND BEHIND." 
The statement did not go so well with Chris Brown and he lashed out at them on Instagram by saying "BUNCH OF LOSERS". These are the type of people I wish walked in front of a speeding bus full of mental patients. Keep groveling over your own insecurities and hatred. IM BLACK AND PROUD. AND I KNOW IT HURTS THAT YOU GUYS ARE STRUGGLING WITH LIFE OR PEACE SO YOU ARE FORCED TO SEE MY SUCCESS. You aren't even #2 (REMEMBER 2nd place only means YOU LOST FIRST! TA-TA. GOODDAY PEASANTS."
It is not clear why CHVRCHES took to social media to display their feelings instead of reaching out to Marshmello's team directly, they had to know that it was going to start a fire.
It is widely known that Chris Brown is not one to back down. It seems as if they were actively picking a fight, and they got what they wanted. Certainly, public relations teams from both sides are trying to figure out how to extinguish the ensuing blaze from the aftermath. Marshmello has not commented about the situation and hopefully, this thing just blows over.
There is no criticism for either side, but for the record when you mess with the bull you get the horn, just saying.
— CHVRCHΞS (@CHVRCHES) April 25, 2019