Professional musicians that utilize the best equipment all know that Allen & Heath's, Xone:92 is the premier mixing device. Many of the top artists in the world will simply not use anything else, it is their all-purpose mixer that they use in the studio, as well as on the road. Once a skilled person puts their hands on it, they immediately know that they found the Excalibur and that nothing else will ever be a substitute for their music performance needs. For those people, only something truly remarkable could ever take its place, or even be considered as an alternate. The time has come for them to replace the majestical mixer, and of course, the successor would be none other than its upgrade, the Xone 96.
When crafting the new industry standard device, Allen & Heath wanted to unleash a mixer that had all of the heart the previous version had, and boost its capabilities to make it the indisputable heavyweight champ of the music equipment world.
The unveiling of the dominating device delivered a knockout blow to the competition and buckled the knees of the contenders as they tried to figure out how could they ever counter the mighty machine.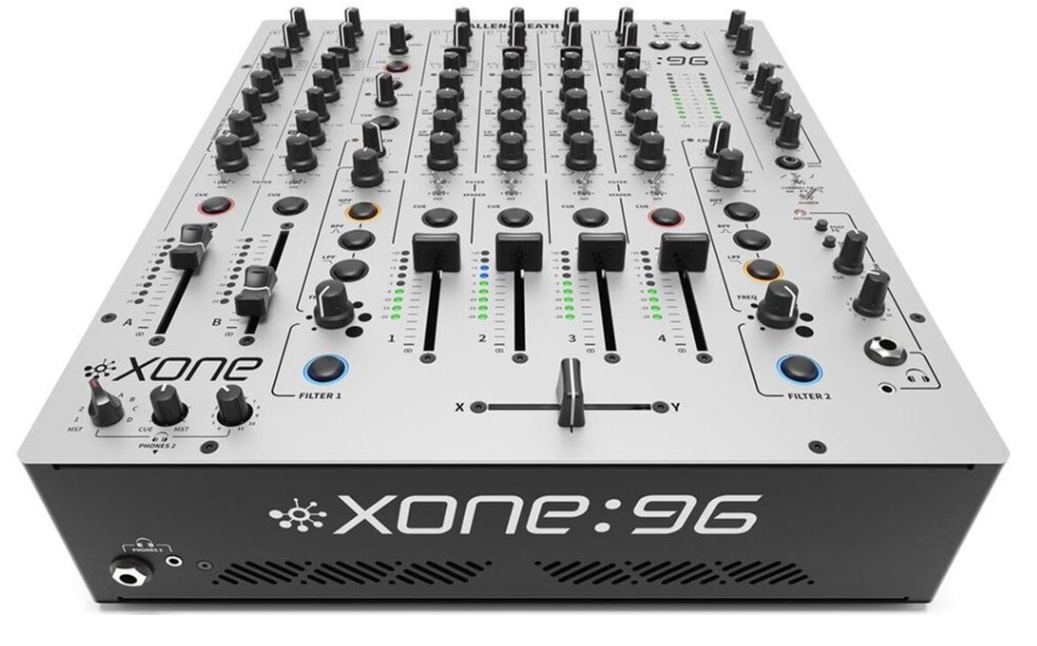 The aggrandized Xone 96 allows its users the opportunity to implement all of their devices into their sound collaboration and lets them connect all of their sound crafting tools including turntables, laptops, drum machines, pedals, and synths. It is built to allow music makers to tap into their full potential, while not limiting them whatsoever.
Allen & Heath developed the impressive mechanical contrivance knowing that the upgrade had to be something truly remarkable to take the place of its predecessor. They did not hold back as they created the state of the art mixing device. It is every bit a tough and durable as the Xone:92 and will stand up against the most demanding tour schedules.

The busiest artists from around the globe can all rely on the Xone 96 to never let them down. They can unleash their creative potential into it without ever worrying about wearing it down.
The new industry standard device comes equipped with an upgraded 4-band EQ of the already supreme VCF filters, with an added CRUNCH harmonic distortion technology added. In addition to the filter upgrades, the Xone:96 comes with a Traktor Scratch Pro 2 certification right out of the box.
Specs from Allen & Heaths website state "Two dedicated FX sends, four stereo input channels (with 4-Band EQ), two stereo input channels with all new 3-Band Parametric EQ + two auxiliary stereo channels" are all implemented in the mixer, and it also has a separate master insert for outboard hardware.
Simply put, the Allen & Heath's Xone:96 is next level and there is nothing out there that can come close to its dominating performance capabilities. For the artists out there that have not started working with it yet should consider bypassing all other products and start using the golden glove champ of the music equipment world.
TECHNICAL SPECS
Type Analogue
Channels 6 + 2
EQ
Channel 1-4, 4-Band EQ
Channel A-B, 3-Band Parametric EQ
USB Soundcards Dual 24 Channel (12 in / 12 out)
Hi-Speed USB2.0 / Mac Class Compliant
32bit / 96kHz
MIDI over USB
Line Inputs 4 x RCA (CH 1-4)
4 x 1/4″ TRS (CH A-D) Mono/Stereo
Phono Inputs 4 x RCA (CH 1-4)
LN/PH Switch for DVS
USB Inputs 6 x USB (CH 1-4 + CH A – CH B)
Mic Input 2 x XLR
Master Output 1 x XLR (Balanced)
Master 2 Output 1 x 1/4″ TRS (Balanced)
Booth Output 1 x 1/4″ TRS (Balanced)
Record Output 1 x RCA (Un-balanced)
Master Insert 1 x 1/4″ TRS
MIDI Out 1 x 5-Pin DIN
Send/Return I/O
2 x 1/4″ TRS Send
4 x 1/4″ TRS Return
1 x LN/Hi-Z Switch (SND1/RTNA)
Filter
2 x VCF Filter
HPF / BPF / LPF
Adjustable Frequency & Resonance
Assignable CH 1-4 + CH A-B
CRUNCH (Controlled Harmonic Signal Distortion)
X-Link 1 x RJ45
Headphones
2 x 1/4″
2 x 3.5mm
Split Cue Monitoring
Channel Faders 60mm VCA / Replaceable
Chanel Meters 9 Segment LED
Channel Fader Curve 3 Types
X-Fader InnoFADER / 45mm VCA / Replaceable
X-Fader Curve 3 Types
Earth Ground Terminals x 2
Headroom 20dB
AC Mains
100 to 240V
AC 50/60Hz
Consumption 45W max
Mains Adaptor 3 pin IEC socket
Height 109mm / 4.3″
Width 336mm / 13.25″
Depth 410mm / 16.2″
Weight 7kg / 15.4 lbs.