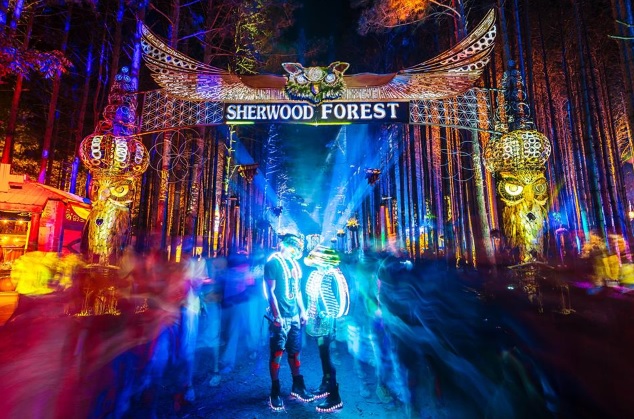 Insomniac continues its dominance in the music festival world by hosting some of the best festivals known to mankind. With the recent news that EDC Vegas officially sold out its general admission tickets, and all the current hype surrounding the main event makes it easy for dancing machines to forget that another Insomniac festival giant is just a month away, and it will be one for the ages.
Electric Forest festival patiently waits to unleash its magic on Planet Earth, and those that were fortunate enough to get tickets are in for something truly special.
Staying true to form by selling out events, Electric Forest tickets also sold out before the event, the only difference is that they sold out roughly four hours after they went on sale, which shocked fans of the event and has left many people scrambling to find a ticket since. For the past couple of years, the festival was broken down over two separate weekends, making tickets more readily available.
When the outstanding lineup including sensational headliners Bassnectar, Kygo, Odesza, The String Cheese Incident, and Zeds Dead dropped with a stellar supporting cast, and it was announced that it was going to be a one-weekend event in 2019, the tickets instantly became a hot commodity.
Electric Forest has quickly risen the ranks as a premier music festival, as well as a crowd favorite. A world class-production and fairy tale setting spark the adventure at the majestical event, and it is widely known that the festival is community-based in terms that everyone is one and loves each other.
Even with the incredible music experience, people could go to the event and not watch one music act and still have the time of their life. Where that is not recommended, it is a fact. The interactive playground is full of excitement, wonder, and knowledge. There are countless activities that promote wellness, sustainable thinking and action, community, love, and that guide humans to open their minds to helping others and being better humans in general.
The Plug In Program gives attendees the opportunity to interact and forge community ties. From the official website "Electric Forest is both a collaboration, and an experiment in the community. There are many ways to be involved in the Forest, from work to play, and everything in between. The Plug In Program offers creative opportunities to jump into contests, artistic projects and so much more. Plug in to deepen the community and connection with Electric Forest. This is truly an invitation to jump in on the magic."
Another interactive display is the Electricology program, that according to Electric Forest management "Reaches every corner of the Forest – rewarding our sustainable, active, and respectful Forest Family with exclusive prizes and festival experiences!". Participants can earn and redeem prizes for being eco-friendly while at the festival. For more information log onto the festival website.
It seems as if Insomniac is in constant competition with itself to never slow down and always provide fans with the best festival experience available, regardless when and where the event is. With the excitement of EDC brewing with it only being a week away, the anticipation for Electric Forest is equally as potent for the dance music community.
We should all be thankful to have such a dedicated and professional force as Insomniac paving the way for our dance party needs. We love you back Insomniac, see you at Electric Forest 2019.