Insomniac and OCESA announced that the seventh edition of Electric Daisy Carnival – EDC Mexico will once again transform Autódromo Hermanos Rodríguez in Mexico City from, Friday, Feb. 28 through Sunday, March 1, 2020.
For the first time ever, the festival now offers a three-day experience complete with new features, more art installations, and expanded stage footprints; a fitting addition for what has already become the largest music festival in the country. Surrounded by a rich culture filled with historic landmarks, EDC Mexico is the perfect destination for fans from all over the globe.
The three-day expansion announcement came from the CEO and Founder of Insomniac, Pasquale Rotella, via his Instagram, on Tuesday, Aug. 13.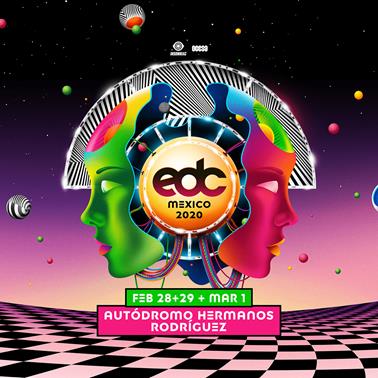 EDC Mexico 2020 will bring an entirely new energy to the festival throughout the largest kineticFIELD the festival has ever seen. During the long-awaited seventh installment of the festival, Headliners will be the first to see brand new festival elements come to life, including an expanded neonGARDEN layout and a newly designed circuitGROUNDS.
General Admission, Comfort Pass and CitiBanamex PLUS (VIP) tickets will be available during an exclusive Early Bird pre-sale for Citibanamex Cardholders held Monday, Sept. 9 through Wednesday, Sept. 11. The general on-sale will begin on Thursday, Sept. 12. Three-day General Admission Early Bird passes are available for 1,950 pesos. Three-Day Early Bird Comfort passes are available for 2,925 pesos, which include private bathrooms with air conditioning at the kineticFIELD and circuitGROUNDS stages, expedited and exclusive festival entry lines, and exclusive bars for those 18 years of age and older.
Since the inaugural EDC Mexico in 2014, the festival has brought together an international community of Headliners to experience the unique culture of Mexico City and Electric Daisy Carnival. The vibrant city floods with individuals from all over the world to share a weekend filled with peace, love, unity and respect.
The 2019 edition hosted over 230,000 fans who enjoyed an unparalleled atmosphere of dance music and energy to pair with unforgettable experiences and brand-new elements such as neon art installations, nine thrilling carnival rides and eight stage productions hosting performances from over 120 acclaimed artists including Dimitri Vegas & Like Mike, GG Magree, Gryffin, Kygo, RL Grime, Polo & Pan, Skrillex, Solardo and more.
Explore, join, energize, and enjoy with the Three-day Early Bird Citibanamex Plus (VIP) pass, available for 3,900 pesos, which includes all of the Comfort Pass amenities in addition to preferred high-rise viewing areas at kineticFIELD and circuitGROUNDS, a VIP concierge service, free Wi-Fi, complimentary body painting and beauty parlor services, mobile phone charging areas, an interactive photo booth, an EDC unity wall to share messages of love with other Headliners, and much more.