Oh, what a night! DJ Awards 22nd edition bought the emotions to a high, bringing together the movers and shakers of the international electronic music scene, as well as honouring up-and-coming talent and turntable legends.
It was not only an important night for those who walked away with one of the coveted Kryptonite awards, but also the event itself taking on an important theme to support No More Plastic. Working together with our Eco Partner Oceanic Global, to help create awareness to the industry, whilst building on Ibiza's commitment to eco-conscious change.
Taking place for the second year in the avant-garde setting of HEART Ibiza, known for its fantastic fusion of art, entertainment and music. The night offered a welcome chance for peers to mingle and look back over another busy summer in the electronic music world.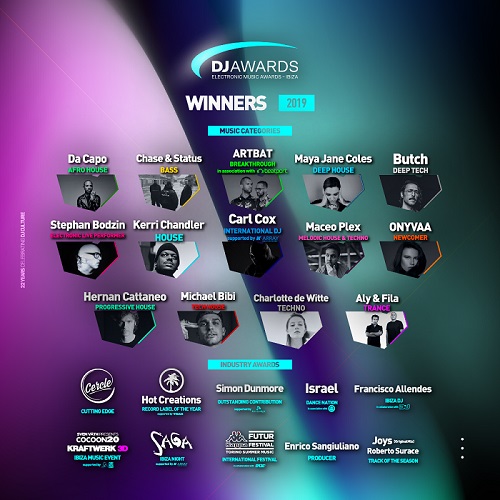 Taking the reins on this momentous occasion were Ibiza icon, and a previous DJ Awards winner himself – Graham Sahara co-hosted by one of the most exciting DJs to break onto the UK scene – Jaguar.
The dynamic duo presented 24 awards, celebrating those who have made their mark on the electronic music industry over the past year. The 22nd edition saw members of the public covering all 5 continents, as well as a panel of industry experts, cast their votes across 14 music categories that boasted 120 nominees. Amongst the winners were some of the biggest names in dance music, as well as exciting newcomers and tastemakers.
Joining the line-up of the awards this year were some of electronic music's biggest names. Music category awards presented included the larger than life Carl Cox who took home International DJ supported by K-array Audio Solutions, he's still king of the turntables!
Deep Tech, a new category this year, saw Butch taking the Kryptonite in his kooky and quirky way. Da Capo walked away with the new category Afro House award, hailing from South Africa, he is fast becoming a household name in clubs around the world. Bass was presented to Chase & Status, themselves celebrating 16th anniversary, and ninth season at Amnesia with Together. DJ and Live artist, Stephan Bodzin picked up for the second year in a row for Electronic Live Performer with Melodic House & Techno going to Maceo Plex, a previous DJ Awards winner.
Having completed a successful season with SHINE, Aly & Fila took home for Trance. The name on everyone's lips, Charlotte de Witte received Techno, this is the first time a female has won this award. Another female commanding the circuit was Maya Jane Coles who won Deep House. One of Europe's newest Techno imports DJ, producer ONYVAA became the third female winner, picking up for Newcomer. Having burst onto the scene after only 4 years, ARTBAT collected the Breakthrough award in association with Beatport.
London based artist who's fast become an established member of the Underground Music scene, Michael Bibi got Tech House. One of house music's originators, who has been injecting soul into his music since the early nineties, Kerri Chandler received the award for House. Progressive House went for the second year running to Hernan Cattaneo, Argentinian DJ and Producer, one of the most globally recognised artists for the past three decades.
Industry awards went to Ibiza Music Event supported by Pure Ibiza Radio, after an incredible show held only 2 days earlier at Ushuaia Ibiza, Cocoon20 Kraftwerk 3D curated by Techno Don, Sven Vath receiving the award. Producer went to Enrico Sangiuliano, first winning this award back in 2013. International Music Festival in collaboration with FAZE Mag was collected by Kappa Futur Festival, by Founder Maurizio Vitale.
Record Label of the Year supported by Trax Magazine got handed to Hot Creations, Head Honcho Jamie Jones. Dance Nation in association with Clubbing TV winner went to Israel, awarded to one of their best DJ exports, Shlomi Aber.
Ibiza based Chilean DJ Francisco Allendes received the award for Ibiza DJ. The Outstanding Contribution award was a complete surprise to the recipient as he thought he was just coming as a guest, the man behind the enormously successful Defected Records, Simon Dunmore. Cutting Edge went to the Cercle, who've had millions of views from their live streams, from majestic locations around the world. Track of the Season was given to Roberto Surace for 'Joys' that became an anthem on the dance floors across Ibiza and continued its rise claiming No.1 most Shazam track from the white isle.
With added entertainment from Ibiza based singer Blondewearingblack, the ceremony came to a close with the tradition winners photo, and then the party started with Agoria, Butch and Hernan Cattaneo, keeping the emotions of the night still riding high.