On its sixth annual showcase, Imagine Music Festival captivated its audience with four days of awe, wonder, an incredibly aesthetic atmosphere, excellent music, epic lasers, face-melting bass, stellar music, and a whole lot of love.
Representing an independent standpoint, festival owners Glenn and Madeline Goodhand joined forces with a dynamite team to create something truly unique and remarkable. It is its own thing, and it stands out as one of the countries top festivals in many different ways.
The stages come to life and deliver a jaw-dropping showcase and sound that consists of a superior display which allows the artist's music to be heard as intended during its creation. The soul-shattering bass shakes the masses as the most intricate notes in the treble permeate within them. Simply put, anybody that has been sleeping on Imagine needs to wake up.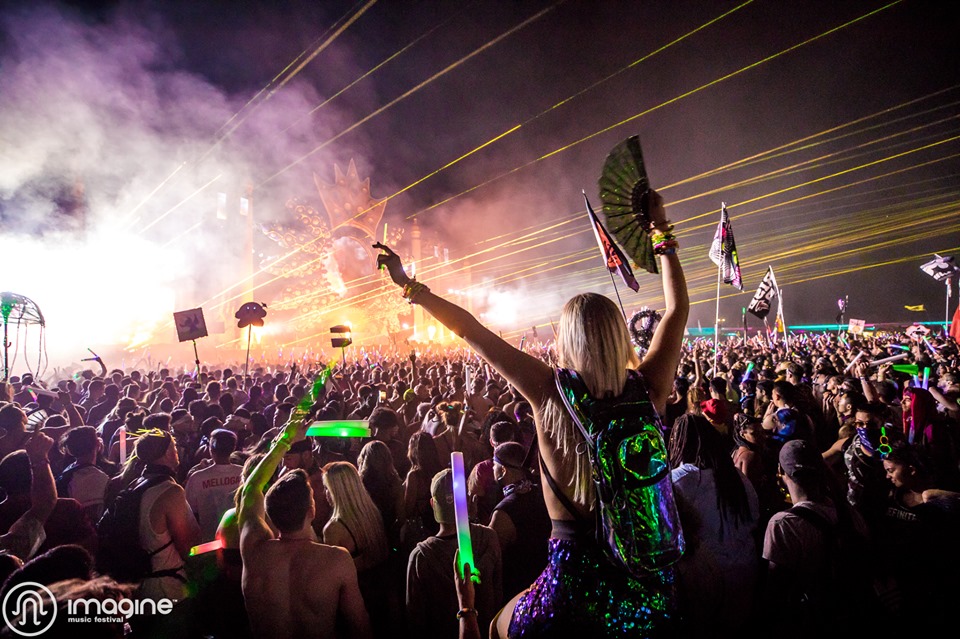 Even before calling Atlanta Motor Speedway home, Imagine had already been dazzling the city and keeping the dance music scene in Atlanta alive for quite some time. Year after year it has consistently brought in some of the hottest acts in the world, keeping the city in touch with the music that powers the lives of millions of humans abroad, helping the scene spread like wildfire, and putting it on the map as one of the USA's EDM hotspots, which remains true now more than ever.
This year was no different, and perhaps it was its greatest exhibit to date. Even the most experienced and well-versed festival heads in attendance will be quick to call it one of the best festival environments on Planet Earth.
Plenty of humans pack out the stomping grounds of Atlanta Motor Speedway during Imagine Music Festival, but one beautiful aspect of it is that it is not chaotic in terms of overcrowdedness. It is a treat for dancing machines because it provides a platform for people to gather and experience a truly intimate setting with world-class artists.
The all-star supporting cast and incredible headliners all captivated the crowd while displaying a brilliantly diverse sound. Everybody was picking their jaws up off of the floor following sets from Above & Beyond, Allison Wonderland, Zeds Dead, Marshmello, Alan Walker, Ghastly, Said the Sky, Seven Lions, K?D, KSHMR, Matoma, Dj Diesel, Louis the Child, Tipper, G-Jones, Jade Cicada, Phantoms, Rusko, Thriftworks, Goldfish, Cherub, Nora en Pure, Space Jesus, Claude Von Stroke & the Dirtybird Players Stage Takeover, a standout, breathtaking headlining set from Leah Culver, and many, many more.
There is never a dull moment in one of a kind campgrounds at Imagine. Secret sets get spread throughout the organized sound camps and a massive silent disco that goes beyond the break of dawn each night (special shout out to Heady Made Weird camp for providing a bone-chilling environment throughout the weekend).
The Atlanta scene shows out for this stellar event and represents something beautiful. There are a lot of people taking care of each other while celebrating life and connecting with each other. Non-stop action powers the stomping grounds and the extravaganza is packed full of excitement that just won't quit.
Untamed party people all come together to respectfully let loose. Positive energy ripples throughout the enormous Atlanta Motor Speedway and provides Atlanta with perfect raving conditions and amenities. Individual vendors gave attendees a versatile selection of delicious food, drinks, and gear while offering some of the hottest trends in dance music. The organizers made certain that there was something for everybody, and that the many angles of the versatile culture were made available to the Imagine family that consists of seasoned festival vets, first-timers who are just becoming acquainted with the festival world, and everything in between.
Another highlight of the event is the swimming pool that nestles just behind the magnificent main stage and gives the Imagine family a tranquil place to cool out under the summer September sky. An epic pool party early in the day on Saturday was quite the spectacle and paved the way for a mystical evening that left the whole place in utter astonishment. Five different stage areas joined forces to conjure up pure magic at the speedway which was so thick that it was almost visible to the naked eye. The life-changing mystery had the whole crowd shook in the best way possible.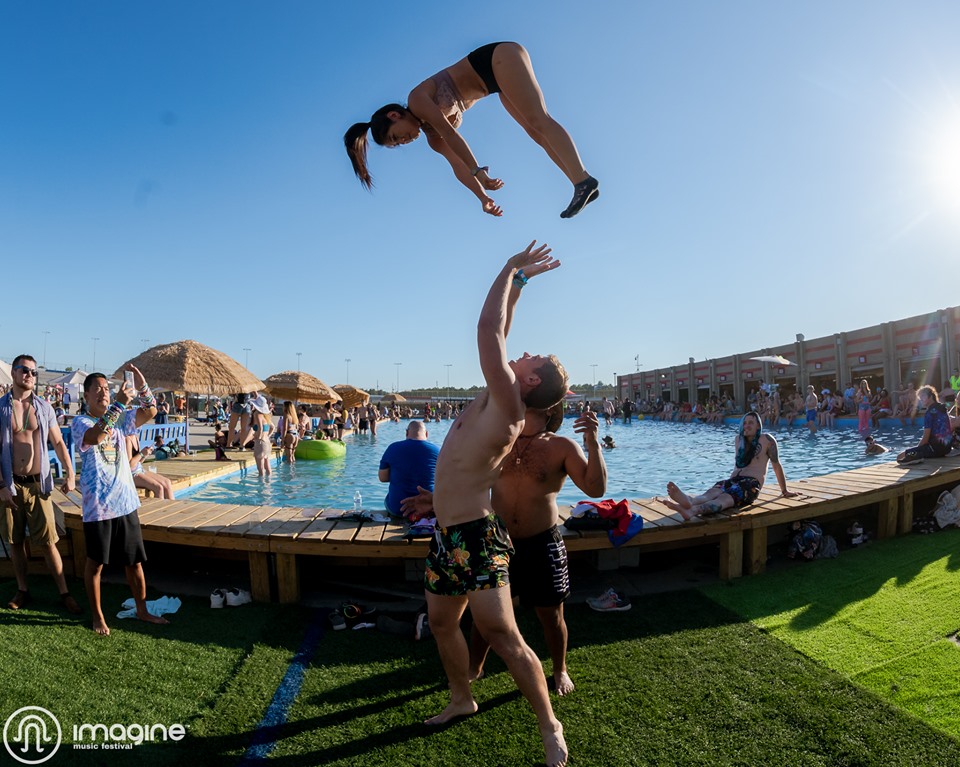 To say that Imagine Music Festival is incredible would be selling it short, it is something far beyond that. As 2020 approaches, it is apparent that the Goodhands and company will be behind the scenes relentlessly conspiring to take the event to the next level. It has been exciting to watch this flower blossom. As the petals fall each year and the roots continue to grow, it just keeps coming back, bigger, stronger, and more pulchritudinous with the seasons.
Anybody out there that is not aware of this festival or overlooks it for whatever reason(s) needs to join hands and live as one with the Imagine family. After firsthand witnessing five years of this glorious event we would like to pause and say thank you to all of the minds behind Imagine, the Atlanta rave scene, and to Glenn and Madeline for showing people that dreams can come true with a little passion, determination, and grit.
See you all in 2020 as the journey continues next year for another chapter. You owe us a new pair of dancing shoes Imagine because you broke ours this year. Thanks for the memories.