Over the coming months, The Black Madonna will embark on a global DJ tour – the We Still Believe: Choose Love Tour – to raise money and awareness for the plight of those seeking asylum on the grounds of persecution for being LGBTQI in their home countries.
The tour will support the pioneering work done by Help Refugees – an organisation for which The Black Madonna is an ambassador – and Say It Loud, a Help Refugees-affiliated community support group for LGBTQA+ refugees and asylum seekers.
Like previous We Still Believe events, which have grown from humble beginnings in a Chicago sweatbox to globally renowned productions taking in everything from circus tents to theatres, massive festival stages to entire city blocks, the We Still Believe: Choose Love tour will provide space for pure celebration and inclusivity, hosted and soundtracked by The Black Madonna.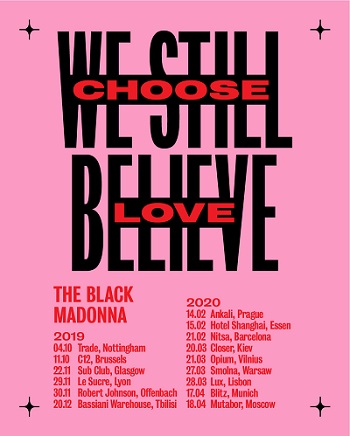 Speaking about the tour, Marea Stamper aka The Black Madonna says:
"You may have seen me wearing a Choose Love t-shirt on the road and in pictures. That shirt is the calling card of an organization called Help Refugees. When I knew I wanted to assist refugees, this wonderful group was the place I started. They are pioneers in a new movement in humanitarian aid: fast, flexible, and transparent.
They go directly where the need is greatest, helping almost 1 million people. I began by donating all the proceeds from my t-shirt sales to them. And then I learned about a group called Say It Loud, supported by Help Refugees, who specifically aid LGBTQI people who are migrating and/or seeking asylum. I met their founder and knew had to get involved.
The Choose Love Tour will cross the globe to raise funds and awareness for these organizations.
I can't do this alone. I need you to join me, so I'm going to do my best to make it easy for you to help out too. There are lots of ways to get involved along the way on this tour, from special Choose Love merch, to individual crowdfunding campaigns, to showing your support for Help Refugees on social media. You don't have to come to a show to help. Learn more at my website www.theblackmadonna.com and, or of course, at the Choose Love shows.
I still believe that together we can make a difference in the real lives of LGBTQI refugees around the world.
Thank you for listening. Join me!
xTBM"
Coinciding with the tour announcement, The Black Madonna has today also launched a brand new range of merchandise, featuring tees, aprons and tea towels. Proceeds from all Choose Love designs will go directly to Help Refugees.
We Still Believe: Choose Love tour 2019/20:
Oct 04 2019 Trade, Nottingham, UK
Oct 11 2019 C12, Brussels, Belgium
Nov 22 2019 Sub Club, Glasgow, Scotland, UK
Nov 29 2019 Le Sucre, Lyon, France
Nov 30 2019 Robert Johnson, Offenbach, Germany
Dec 20 2019 Bassiani Warehouse, Tbilisi, Georgia
Feb 14 2020 Ankali, Prague, Czech Republic
Feb 15 2020 Hotel Shanghai, Essen, Germany
Feb 21 2020 Nitsa, Barcelona, Spain
Feb 22 2020 Mondo, Madrid, Spain
Mar 20 2020 Closer, Kiev, Ukraine
Mar 21 2020 Opium Club, Vilnius, Lithuania
Mar 27 2020 Smolna, Warsaw, Poland
Mar 28 2020 Lux, Lisbon, Portugal
April 17 2020 Blitz, Munich, Germany
April 18 2020 Mutabor, Moscow, Russia