Amsterdam based duo Yellow Claw will open a temporary comic book store in Amsterdam to celebrate the release of their latest track "Amsterdamned".
Accompanying the release of "Amsterdamned", there will be a limited run of 5,000 comic book copies, which Yellow Claw super fans can purchase at the duo's four-day pop-up shop at the Amsterdam Dance Event, beginning October 17th.
Both Yellow Claw members Jim Taihuttu and Nils Rondhuis will be at the store to sign copies of their comic book, accompanied by other activities throughout the week like: live "Amsterdamned" tattoo sessions, a photo booth, demo drops and more.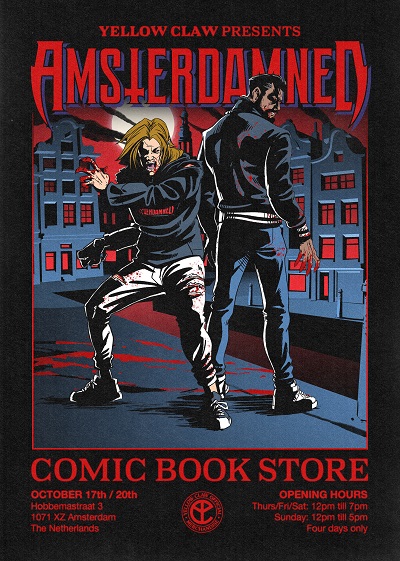 "About a year ago we started working on a song that inspired us on a whole other level. The song sounded like the soundtrack of a grimy anime movie or a comic saga. We just couldn't stop thinking about it. So after an insomnia infused creative brainstorm session we decided to just make it ourselves. Now looking back it's so crazy what you're able to achieve if you put your mind to it and surround yourself with the right team." – Yellow Claw
The pop-up store will be open to the public from Thursday October 17 until Sunday October 20 and will also feature merchandise inspired by the comic book including a clothing line, skateboards, accessories and more. The comic book and merchandise will also be available for purchase online.
Watch the video below.