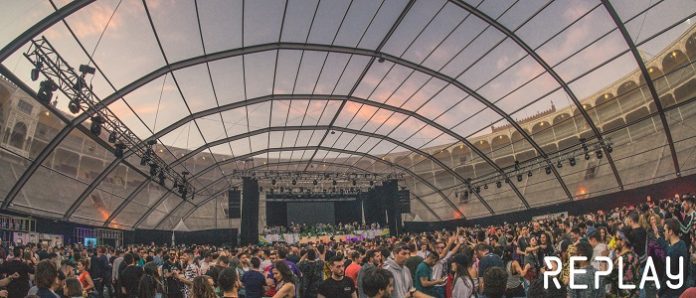 Replay returns, this time with a New Year event in a Limited Edition format with more than 20 hours of performances in two different locations: El Invernadero de Las Ventas and Nazca.
Apollonia, Margaret Dygas, Motor City Drum Ensemble, Seth Troxler, Catz 'N Dogz, Traumer, Bawrut, Quest, Unai Trotti, Sugar Free, donrafael, Vico Deep and Carlos Zarin are the guests.
2020 will kick off with a bang thanks to Replay. The renowned brand returns to the capital with a special New Year event. This time it will be an Limited Edition format with more than 20 hours of performances that will take place in two different locations: El Invernadero de Las Ventas and Nazca.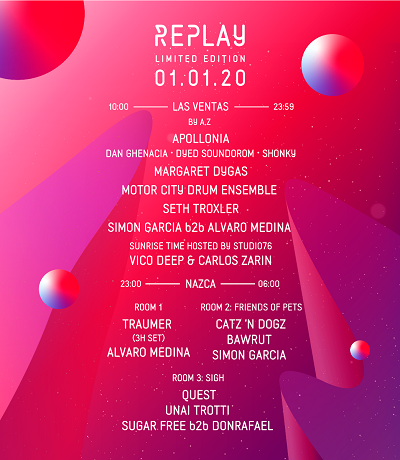 EL INVERNADERO DE LAS VENTAS – From 10:00 to 23:59 h.
The action will begin at 10:00h on the 1st of January at las Ventas. There will take place the performances of Apollonia, the French trio formed by Dyed Soundorom, Dan Ghenacia and Shonky that have made of their intense sets their main weapon alongside their unique production style; of Margaret Dygas, the Polish artist that has made of the world her home and of house music her passion.
It's been said that her sound was born in New York, took shape in London and refined in Berlin, therefore her ability to conquer any audience; of Motor City Drum Ensemble, the curious band project that integrates only one man. Retro and futuristic, the German Danilo Plessow has created a unique combination of soul, jazz and techno; of Seth Troxler, a crossover artist that feels very comfortable both in the most underground clubs as on the biggest festivals' stages. Replay's residents Simon Garcia and Alvaro Medina will also be part of the Las Ventas' line-up and an opening set hosted by Studio 76 with its residents Vico Deep and Carlos Zarin.
NAZCA CLUB – From 23:00 to 06:00 h.
And after 14 hours of music, at 23:00h of the 1st of January, Nazca will take over until sunrise. There the audience will enjoy performances in three different areas. In Room 1 Traumer will develop a special 3 hours set. A cold and fierce techno or a melodic jazz house, there isn't a genre capable of avoiding the versatility of this French DJ and producer.
Resident Alvaro Medina will be part of the line-up too. In Room 2 "Friends of Pets" with Catz 'N Dogz in the lead. The Polish duo formed by Grzegorz and Wojciech that have experienced an exponential growth in the last few years, accumulating international recognition and performances at the best clubs and festivals in the world.
They will be accompanied by Bawrut, the Italian DJ and producer based in Madrid that has managed to create a harmonious balance between classics and the latest novelties in his sets and Simon Garcia.
Lastly, in Room 3, the artists have been selected by the club Sigh that has recently premiered its third season. There, will perform a team of DJs that are conquering DJ booths in underground clubs all over Europe: Quest, an Italian artist owner of a vast collection of gems capable of covering the huge electronic music spectrum; the unstoppable Spanish based in London, Unai Trotti, and the also Iberican Sugar Free based in Berlin whose career has just kept rising the last few months with a b2b with the Spanish artist Donrafael, an essential artist from the influential COLT Music.
TICKETS
A first limited batch of tickets will be on sale with a reduced price soon, if you don't want to miss yours, sign up to this form to receive an alert and be able to purchase it hours before anyone else.