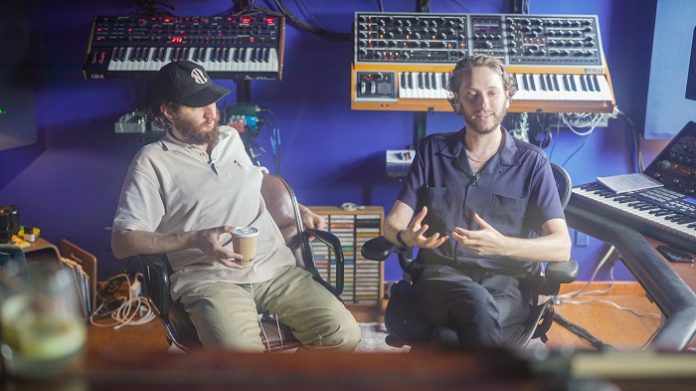 Composer Daniel Lopatin and filmmaker Josh Safdie sat down with Moog Music to discuss the soundtrack of 'Uncut Gems,' the latest Safdie brothers crime thriller featuring Adam Sandler, Kevin Garnett, Idina Menzel, and The Weeknd.
In this in-depth documentary, Lopatin details the creative process behind scoring a film that blends compulsive gambling, cosmic new age music, the NYC Diamond District, addiction, and the NBA.
"It needs to be majestic. It needs to be rich. It needs to be new. It needs to feel like it can't be transient. It can't be small. So I was always really, really trying to find through that alchemical process what textures would emerge…You're just praying for those moments. And when they happen, you just hold onto them for dear life." – Daniel Lopatin
Moog began a dialogue with Lopatin at the beginning of the scoring process, which coincided with the artist's initial exploration of the Moog One synthesizer. Through studio visits and sound design, Moog and Lopatin developed a synergy that helped birth the unique sounds the composer had envisioned for the film's soundtrack—sounds that nod to the synth-heavy scores and compositions of electronic music icons. This kind of creative collaboration, the instrument company notes, has always been the heart and soul of its business.
The 'Uncut Gems' soundtrack was released in December on Warp Records and has since been praised by the likes of The New York Times, VICE, Pitchfork, and NPR.
"Lopatin has always contained multitudes, and in the years since the man behind Oneohtrix Point Never started scoring films, we have been reminded not only how many unconventional facets he has, but also how good he is at dismantling them." – Consequence of Sound
Watch 'Behind the Soundtrack: Uncut Gems with Daniel Lopatin' below, and subscribe to Moog Music's YouTube channel to be notified about more releases like this.