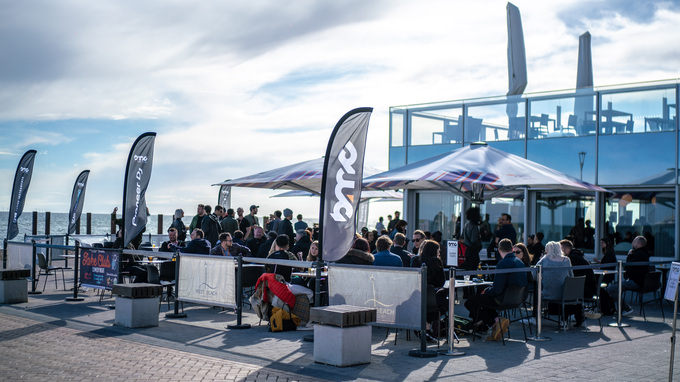 The award-winning Brighton Music Conference (BMC), the UK's foremost electronic music and networking event will return to the prestigious British Airways i360 venue on Brighton's beachfront for its seventh edition from April 22 to 25.
Following its most successful year in 2019, BMC20 will once again host over 65 talks, seminars and workshops, with industry-leading speakers, including in-depth discussions and debates on the biggest issues facing the electronic and wider music industry such as diversity, mental health, the environment and current music and business trends. There will also be exclusive networking parties being held 450 feet above the city in the i360 Pod observation tower.
Artists and speakers taking part in the 2020 event include (In alphabetical order): Alon Shulman, Amy Jayne, Anthony Pappa, Ben Rush, Carl Cox (Live interview and Q&A from Australia), Carl Loben, Carly Wilford, Chris Goss, Damien Fell, Danny Clockwork, Danny Howard, Darius Syrossian, Danny Savage, Derrick May, DJ Rae, DJ Rap, DJ Ravine, Endor, Eddy Richards, Fatboy Slim, Flava D, Greg Marshall, Grahame Farmer, Harriet Jaxxon, Jaguar, Leftwing:Kody, Kevin McKay, Lee Morrison, Magnus Asberg, Michael Kill, My Nu Leng, Nathan Coles, Nat Rich, Nikki McNeill, Nurve, Patricia Altisent, Ridney, Phutech, Raze, Sacha Wall, Sam Divine, Seb Fontaine, Shino Parker, Stuart Knight, Tall Paul, Terry Francis, Timo Maas, Tristan Hunt, Tom Middleton, Wax Worx plus many more tbc.
Over 200 speakers and representatives announced including (In alphabetical order): A Greener Festival, ACS Custom, AFEM, AIM, Audio Rehab, AudioLock, AWOL / Kobalt, Axtone, BBC, Beatport, BIMM, Blanc, Bugbar, Cavendish, Clockwork Orange, Computer Music, Data Transmission, DJ Growth Lab, DJ Mag, Eco Glitter Fun, Facebook, Function One, Glasgow Underground, Help Musicians UK, Hospital Records, I am Sound, Iconic Underground Magazine, Identification of Music, Keep Hush, Loopcloud, Loopmasters, Monokrome Music, Music Week, Nervous Records, NTIA, Plugin Boutique, Point Blank, PRS for Music, Sentric, Shanghaid, Shogun Audio, Skiddle, Skint, Stashed, Symphonic, Toolroom Records, Transmat, Tru Thoughts, Ultra Music plus more to be announced…
The prestigious beachfront complex will host two Pro Conference Theatres, two Academy Theatres, the BMC networking hub, the Pro meeting Lounge, The Point Blank Theatre hosting demonstrations and talks and a specialised exhibition/tech and services zone. There will also be evening and networking events throughout the duration of the event. (full details to be released soon).
The Label Lounge also returns after an overwhelming success last year. Taking place on Friday 24th at the nearby The Tempest Inn major labels in electronic music will once again be taking part in one to one A&R feedback sessions. Last year 18 tracks were signed to labels including Champion, Cr2, Glasgow Underground, Labelworx, Skint and Ultra. (Earlybird tickets are on sale now more info coming soon).
BMC also supports the charities Help Musicians UK, and Last Night A DJ Saved My Life.
Save the date for BMC 2020, April 22 to 25 (with the main conference being held on 23rd and 24th) More info on the event program and official events coming soon.
Buy tickets here!