Originally premiered on BBC Radio 1 by Pete Tong, Techno DJ and producer, Maceo Plex unveils his latest single – Two official remixes of Perry Farrell's 'Let's All Pray For This World'.
Holding a deep admiration for the work of Perry Farrell along with taking part of his name from the Jane's Addiction track, 'My Cat's Name Is Maceo', 'Let's All Pray For This World' (Maceo Plex Remixes) are available to purchase and stream from today.
World-renowned musician Perry Farrell has been at the forefront of music, culture and festivals for over 30 years. The American trendsetter and frontman of Jane's Addiction has had a lifelong passion for dance music, citing influences throughout his career and being a pivotal figure in the setting up of the highly regarded 'Lollapalooza festival' which spans seven countries.
He returns in 2020 with whispers of a very special retrospective project in the making, and enlists Maceo Plex for two contrasting remixes of 'Let's All Pray For This World'.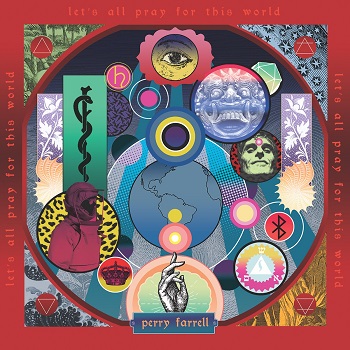 Featuring an electro mix that channels the aura of classic Detroit electro, tremulating vocal samples drift across syncopated 808 kicks and crisp, piercing hi-hats. Rolling toms and eerie synth pads bolster the timeless vocals of Perry Farrell throughout the uplifting blend of euphoric keys and deep, growling low-end.
Reimagining the track into a second remix, which was premiered and described by BBC Radio 1's Pete Tong as "The perfectly titled, Maceo Plex's 'Glitchy' remix of Perry Farrell's 'Let's All Pray For This World'", Maceo Plex dives into his trademark sounds, merging a driving 4/4 kick drum with audio glitches. Complimented by small snippets of the anthemic chorus, the hard-hitting dance floor remix is a true rework of the original.
With both official remixes released now, the single has received a flurry of early support from industry peers and like-minded artists, including Rob da Bank, Danny Howard, Anja Schneider, Danny Rampling, John Digweed, R&S Records founder Renaat Vandepapeliere and many more.
The leading electronic producer, artist and live act, Maceo Plex's accolades are in abundance. The figurehead behind the seminal underground label, 'Ellum Audio', Maceo Plex has released four studio albums, mix compilations for London's fabric and !K7's DJ-Kicks series, along with an impressive catalogue of productions under his Mariel Ito and Maetrik aliases.
Along with curating several BBC Radio 1 Essential Mix's, headlining global festivals and gracing the cover of many a magazine from Mixmag to DJ Mag, Maceo Plex has also remixed artists including Coldcut, Röyksopp, GusGus, DJ T, Maribou State and more. Most recently, Maceo Plex has set plans in motion to launch a new multidimensional sensory, live show experience titled 'M³'.
Listen to the remixes here.