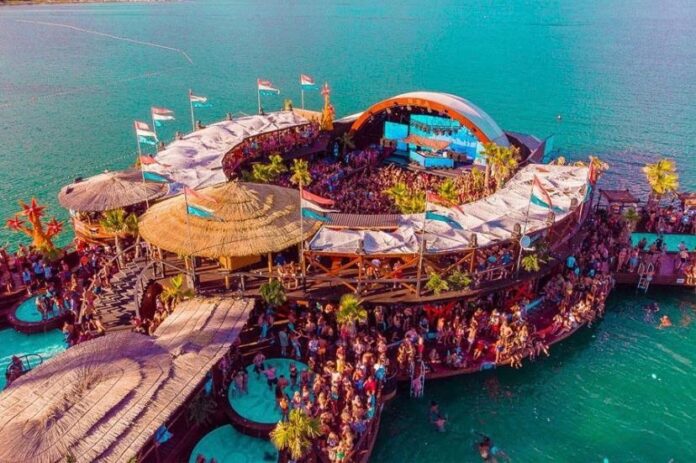 Despite the current state of the world, a small brand with a strong local following decided to do what everyone else was afraid of doing, and that was to keep the good times rolling in a world filled with as many uncertainties as ever.
So, coming out of lockdown, BSH Events had one goal, and one goal only, and that was to never stop dancing despite the music industry taking a massive hit, as most festivals around the world have been postponed until 2021.
Undeniably, the cards were stacked against this Croatian brand, which has been throwing some of the best parties at some of the unique locations across the country since 2013. For a brand that has gained a loyal fanbase thanks to their unique approach to venue selection as well as a genuine love for music, scaling up to a project, this initiative seemed very ambitious. Not to mention they had to make sure that the festival abides by all epidemiological measures necessary.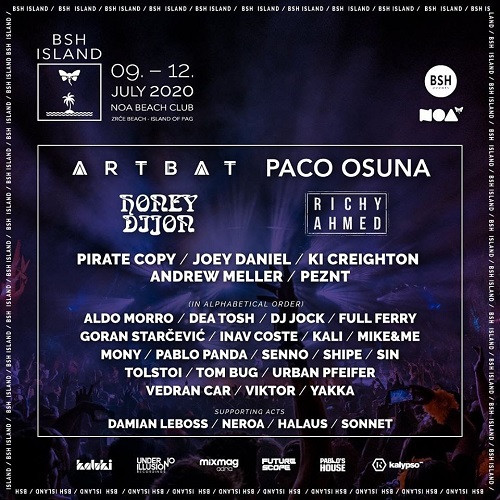 But nonetheless, the BSH boys got to work and against all the odds setting up a star-studded 4-day long BSH Island music festival in beautiful Croatia, on the amazing Island of Pag lasting from the 9th until the 12th of July. Island locals have dubbed Croatia's Ibiza due to its beautiful beaches and amazing nightlife, bound to take any visitor on an unforgettable musical journey.
The same island whose clubs on Zrce Beach have raised generations of ravers and party enthusiasts ever since the opening of Kalypso in 1987. The same club that will be hosting the official BSH Island Afterparties, along with the festival's main venue Noa Beach Club, a club that literally stands on water, and features a newly built and already sold-out Noa Glamping Resort, whose luxurious villas with swimming pools and a breath-taking view of the Adriatic, will be accommodating the festival attendees. Throughout its younger history, the club has hosted reputable festivals such as Sonus and Hideout and had some of the world's most famous artists perform there.
The artists ready to rock the house this summer's BSH Island festival at Noa Beach Club are nothing short of spectacular, to say the least… The festival's main headliners are international superstars, the likes of ARTBAT, Paco Osuna, Richy Ahmed, and Honey Dijon.
In addition to that, the festival's opening will be headlined by Manchester-based brand, Kaluki, whose performances are in demand from Ibiza to Miami. On top of bringing us one of the headliners in Richy Ahmed, they are bringing along Pirate Copy, Joey Daniel, Ki Creighton, and BSH Events' own, Pablo Panda. Kaluki are frequent guests at some of the most popular festivals such as Parklife in England, the BPM Festival held this year in Costa Rica, and many others. Their debut in Croatia could potentially mean more Ibiza based brands coming to Croatia.
In an effort to expand on the musical experience, BSH Events has involved Under No Illusion Recordings, which will also showcase the likes of Andrew Meller, Tolstoi, and Viktor on top of a special Pirate Copy b2b Ki Creighton show.
Supporting the star-studded lineup will be upcoming local artists listed in no particular order such as PEZNT, Aldo Morro, Dea Tosh, Tom Bug, Goran Starcevic, Full ferry, Yakka, Inav Coste, Kali, Mike&Me, Mony, Tino Simich, Urban Pfeifer, DJ Jock, Shipe, Senno, Sin, Sonnet, Halaus, Neroa b2b Damian Leboss, and Stanky Baby. Some of these artists will be showcasing their tunes on Sunday at Mixmag Adria's daytime stage as well.
The festival has already sold more than 1500 tickets in record time. In addition to that, the total number of attendees expected is around 4000 in total, proving that the hype around BSH Island is real. And with a quality lineup on a beautiful island, it is the perfect musical experience for anyone looking to enjoy the beauties of the Croatian coast, so it is not surprising that European dance lovers are truly eager to go.
Moreover, the festival hopes to spark the Croatian tourist economy by organizing and referring its guests to supplementary vacation activities in order to let the festival-goers explore the amazing wonders of the Adriatic Sea.
The official pre-party for the festival happened on the 21st of June at Mint Club in Zagreb and left visitors ecstatic thanks to the performance put on by British DJ and producer Richy Ahmed, who will be returning to make his BSH Island festival debut.
Full Lineup:
Aldo Morro, ARTBAT, Andrew Meller, Damian Leboss, Dea Tosh, DJ Jock, Full Ferry, Goran Starcevic, Halaus, Honey Dijon, Inav Coste, Joey Daniel, Kali, Ki Creighton, Mike&Me, Mony, Neroa, Pablo Panda, Paco Osuna, Peznt, Pirate Copy, Richy Ahmed, Senno, Shipe, Sin, Sonnet, Tolstoi, Tom Bug, Urban Pfeifer, Vedran Car, Viktor, Yakka