The Dutch superstar DJ and producer, Don Diablo is the first guest to kick off the brand-new weekly podcast show 'Sunday Morning Playlist' on Tomorrowland's One World Radio.
Every Sunday morning a friend of Tomorrowland will share his/her Sunday Morning Playlist with the People of Tomorrow, while diving deeper into the personal stories behind 10 different tracks and talking about what each song means for him/her.
The unique podcast show will be aired every Sunday at 11:30 CEST on Tomorrowland's One World Radio, featuring a central guest artist who will give the People of Tomorrow a unique insight, track by track, into his/her life and Sunday morning routine. Every track will be in the playlist for a reason, from favourite songs to wake up to, groovy sunrise tracks to go-to hangover tunes and all-time classics – giving artists the opportunity to showcase a different side of themselves and their taste in music.
Dutch musician and entrepreneur Don Diablo is the first artist who will tell the listeners about his playlist and his favourite tracks to listen to on a Sunday morning. Talking openly about his unique and surprisingly eclectic selection, from James Blake & Bon Iver to Massive Attack and Johnny Cash, Don Diablo gets really deep and opens up on life during the show, showcasing his vulnerable side and giving the People of Tomorrow a closer and intimate look into his past, present and future.
Listeners can tune in to 'Sunday Morning Playlist' with Don Diablo tomorrow, Sunday September 13, at 11:30 CEST on One World Radio.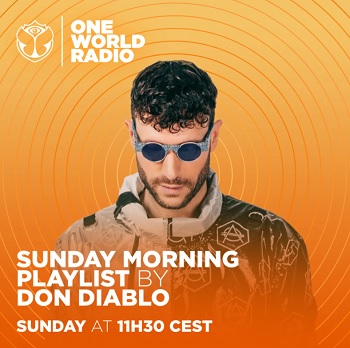 Don Diablo: "I'm working on amazing projects and I'm very inspired at the moment. I've got a whole new musical project in the pipeline 'Camp Kubrick', all inspired by the music that inspired me growing up. There's a couple of really cool singles on the way, Don Diablo remixes, and I'm working on a new clothing line drop."
Don Diablo about Johnny Cash – Hurt (In My Feels song): "This is a record that gets me going emotionally. I can really relate to this song, because sometimes it feels like everything I'm building is worthless. Like why am I working so hard for something that might disappear in the end of time? It really hits me, because Johnny Cash is such a legend, seeing him sing this song and being so fragile and open, and it definitely had a big impact on the way I share music with the world. This track is life-changing for me personally – there were moments I listened to this song on loop for like 100 times."
Don Diablo about Sufjan Stevens – Fourth of July (In My Feels song): "This is one of the most beautiful songs ever made in my opinion, definitely in my top 5 favorites of all-time. It's a song that really hit me in the core and a song that will forever touch me. It's one of those songs – when you listen to it, close your eyes and zone out – that will take you to a place where you're thinking about life and putting things in perspective. It will have you pick up the phone and ring your parents and other important people, and make you realize that one day we're all going to die."
Don Diablo about Massive Attack – Unfinished Sympathy (Nostalgic song): "Massive Attack has been an act that has inspired me massively throughout my career, growing up as well for sure. They've done incredible things for electronic musicians and they were making music way before I was active as a musician. I remember when I was a young kid I saw this song on TV and there was something so haunting and fascinating about it – one of the records that got me into electronic music. Definitely a song I would classify as a nostalgic one, it brings me back to a time where I wanted to experiment with electronic music, melodies and myself – just general feelings and vibes. It's a track that will always remain relevant. It was a classic the day it was reof thleased and it will stay a classic until the end of time."
Don Diablo about Kavinsky – Nightcall (Drive song): "This is one e tracks I like to listen to when I'm driving at night in my car. Sometimes I need to unwind and think about things, overthink usually – I like to overthink. In the middle of the night, when there's no one on the street, I like to just cruise, turn on this song and kind of just feel like a boss. You might know this track from the modern classic 'Drive'.
Tune in to 'Sunday Morning Playlist' with Don Diablo tomorrow, Sunday September 13, at 11:30 CEST on One World Radio with the One World Radio app, online, on YouTube or on TuneIn.