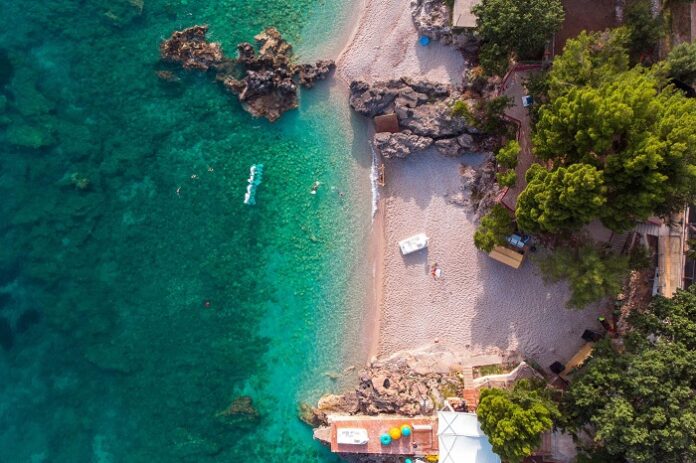 ION Festival is delighted to announce the full lineup for its first edition in Dhërmi, Albania between 8th-15th September 2021. The week long ION Festival will see each artist play at least one set each, with many scheduled for multiple performances.
Carl Craig and Larry Heard AKA Mr Fingers (Live) join the bill as brand-new headline acts, in addition to the previously confirmed headliners Daniel Avery, Dax J, Floating Points (DJ), Helena Hauff, Hessle Audio, Jeff Mills, Maribou State (DJ) and Nina Kraviz. Anz, Bambounou, Batu, DJ Stingray, Helena Star and Madam X are further, new additions to the lineup.
Carl Craig's position as a musical gatekeeper is matched by his deep rooted passion for electronic music, making him a perfect addition to ION 2021. Prolific London-based producer Daniel Avery will play out the new music he has created during lockdown, weaving from ambient material, to hard-hitting techno, while fast-paced Dax J is another London based DJ set to play across the week.
Combining influences from jazz to IDM, composer Floating Points will bring his impeccable sound to the shores of Dhërmi, while Hamburg's Helena Hauff caters to the cross section between techno and modern electro. Hessle Audiotrio Ben UFO, Pearson Sound and Pangaea are set to thrill, playing the groundbreaking music they have been inspired by across their respective careers.
Jeff Mills' contribution to the dance music scene cannot be overstated and his exceptionally rare performance will be unmissable, while Chicago's Larry Heard's dexterous live project Mr Fingers is another must see moment.
Berghain ambassador Marcel Dettmann will bring the sound of the capital of techno to Dhërmi, while critically acclaimed recording duo Maribou State are set to play an exclusive DJ set. трип label boss and renowned crate digger Nina Kraviz will provide fans with a mixture of techno, electro and breakbeat.
Ben UFO will bring his broad, universal tastes, while siblings and cult heroes Chaos in the CBD have toured the world and lived in various places, so are sure to bring a worldly view to Dhërmi next September.
The nimble fingered DJ Stingray will display his renowned flexibility on the decks, while George Fitzgerald's unerring ability to blend heart wrenching electronica with more functional 4/4 dance music has given him a reputation as one of house music's most absorbing DJs. Coconut Beats label head HAAi will show why she is such a highly regarded talent, with a mix of percussive house and world music.
Infusing long forgotten jewels from the vaults of rave, vinyl enthusiast Héctor Oaks' sound trawls the decades. Industrial noise architect JASSS will steer things in a heavier sounding direction with her uncompromising repertoire, while Correspondant label owner Jennifer Cardini will bring a series of left-field gems to Albania.
Drum fanatics Blawan and Pariah will recouple to perform alongside one another as Karenn Live for what will be essential viewing, while South America's Nicolas Lutz will showcase his impeccable selections and spellbinding transitions. Seasoned pro Roman Flügel possesses a wealth of experience and an unparalleled ear for new music, while top Swiss selector Sonja Moonear is an underground artist and DJ that never fails to impress.
Other acts playing across the week in Dhërmi are:
B.Traits, Batu, Bambounou, Eclair Fifi, IMOGEN, Radioactive Man, A-Future, Madam X, Anz, DJ Masda, Ferro, Reiss, Jayson Wynters, The Ghost, Krankbrother, Robin Ordell, Sam Bangura, Voigtmann, Kirsti, Heléna Star, Truly Madly, Andy Luff, Hamish & Toby, Leo Lumezi, Oda Haliti, Tijana T, Altin Boshnjaku, Besa M, Eliss & Gemza.
Tickets for the festival are on sale from 1st December here.