Mathame have launched a new and groundbreaking series of mixtapes that have been put together with a brand new A.I. algorithm developed to test the power of the new M1 processor architecture by Apple. "Old Neural Mixtape Vol.1" lands in March 2021, with further instalments to follow throughout the year.
Mathame are an Italian techno pair who bring real depth of emotion to their grooves. They release on labels like Tale Of Us's Afterlife, and have a truly emotive and deep techno sound that's full of melody.
This new A.I technology allows artists to separate tracks into harmonics, vocals and beats then rebuild new versions on the fly. It was first trialled by Mathame in their globally acclaimed 2020 BBC Radio 1 Essential Mix, which ended with an upcoming Mathame remix from one of the most talented pianists in Europe, namely Max Richter's Declaration of Human Rights.
The sonic aesthetic sits somewhere in between lofi mixtape and enhanced engineered sound design. In it, music by the likes of Franco Battiato and Arca, Burial and Moby as well as Plastikman, MF Doom and Buddy Rich all explode and collapse into something brand new and never heard before.
"The beauty of this technique is that is not perfect, the little mistakes and sonic artifacts shade it with unprecedented feelings, working it was more human than the classic way of mixing tracks. This sounds like a lo fi cyborg mix , maybe the future of dance mixtapes," says Mathame.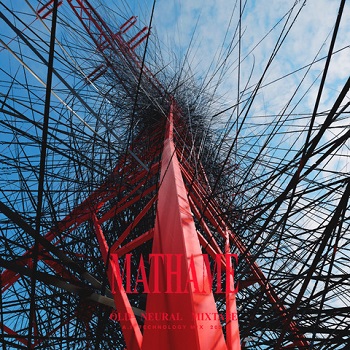 Though this special Apple DJ Mix series, Mathame are proving their desire to build bridges between genres and musical styles. After the release of the first "Old Neural Mixtape Vol.1" in March 2021, Mathame will continue this series in collaboration with Apple Music by delivering different types of mixtapes that will continue to explore their skills alongside the A.I. neural mix technology.
Stream / Buy – via the link.