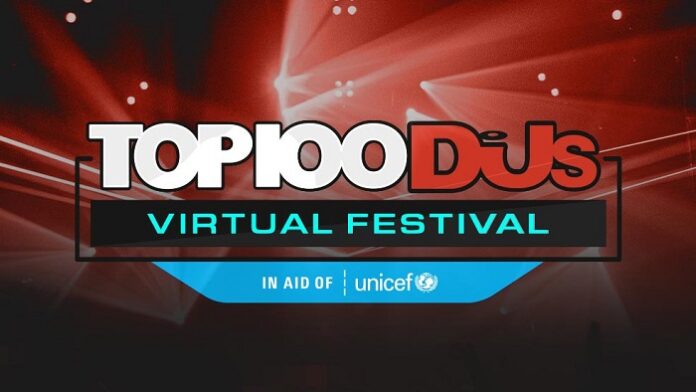 The voting will be accompanied by the return of the Top 100 DJs Virtual Festival, a ten-week online showcase of the world's leading DJs from across the planet. The Top 100 DJs Virtual Festival series first launched in 2020, in response to the pandemic and the closure of the global nightlife and event industry. 2020's showcase was viewed more than 10million times, with all sets raising money for Unicef.
The Top 100 DJs Virtual festival series, which takes place every Saturday and Sunday from 24th July — 19th September, will be broadcast across DJ Mag's global YouTube, Facebook and Twitch channels. Saturdays will be dedicated to Top 100 DJs, with Sundays celebrating the Alternative Top 100 DJs.
The Alternative Top 100 DJs uses the same vote data as the Top 100 DJs poll, cross-referenced with Beatport sales data and a genre-filter. In 2021, the genres included in Alternative Top 100 DJs will be widened to include a number of Beatport's high-selling genres, including house, techno, drum & bass and other derivatives that have recently been underrepresented in the main poll. In addition to the DJ Mag channels, selected Alternative Top 100 DJs sets will be broadcast across Beatport's Twitch and Facebook channels.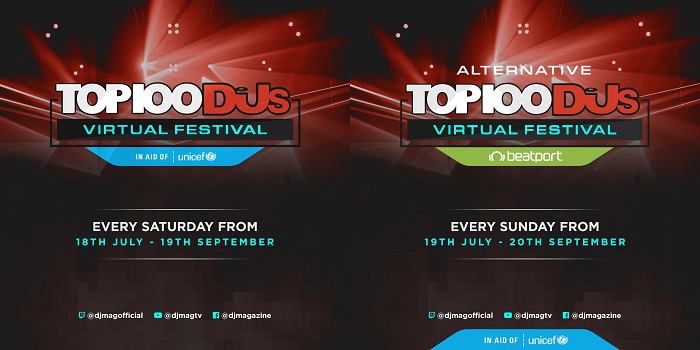 Confirmed Saturday DJs include reigning Top 100 DJs champion David Guetta, Dimitri Vegas & Like Mike, Mariana Bo, Timmy Trumpet, Lokyii, Carta, JVNA Casper Yu, Ummet Ozcan, Nifra, Oliver Heldens, Qrion, Christina Novelli, Steve Aoki, Afrojack, Nifra, ATB, Bassjackers, Vini Vici, Vize, Fedde Le Grand, Miss K8, KSHMR, Ayrue, and many more.
Sundays will be soundtracked by artists including Juliet Fox, Claptone, Dennis Ferrer, DJ Spen, Manda Moor, Space 94, Lauren Flax, Justin Cudmore, Paulette, Anfisa Letyago, Delano Smith, Roger Sanchez, Mike Dunn, and many more TBA.
Now in year five of a long-term partnership, Top 100 DJs has raised more than £80,000 for Unicef, the world's leading children's organisation. With this money, Unicef has been able to provide enough life-saving vaccines to protect more than one million children worldwide.
This year, the fundraising focus shifts to Unicef's Vaccinaid program. With vaccines rolling out, we're beginning to win the fight against COVID-19. But we can't stop at our own borders. When one country is at risk, we're all at risk. DJ Mag are asking DJs, artists and fans to play their part in supporting Unicef's mission to deliver two billion vaccines, as well as millions of treatments around the world this year.
Viewers of the Top 100 DJs Virtual Festival will be invited to donate whatever they can afford during the broadcasts, or enter a charity prize draw, in partnership with Crowdfunder. This will see one lucky donor and their friend win a once-in-a-lifetime trip to Amsterdam to meet 2021's No.1 DJ backstage, directly after they have collected their award.
Top 100 DJs is a fully open poll, with no nominations or categories. Voters are simply asked to choose their top five DJs. They can include a DJ with five followers to a DJ with five million followers — but voters are reminded that they only get one vote each year! The 100 DJs with the most votes make the final ranking.
Top 100 DJs was born from the 100th edition of DJ Mag back in 1993 and began as an editorially curated list. In later years it was opened to a postal ballot before going online.
In 2020, more than 1.2 million votes came from 232 different countries, including principalities and islands. As an indication of how truly global the poll is, the figures include 50 votes from Greenland, 52 votes from San Marino, 924 from Syria, and one vote from Vatican City! Europe and the United States pulled in the most votes, closely followed by Latin American countries, specifically Brazil and Mexico, but also Argentina, Ecuador, Peru and Guatemala, cementing Top 100 DJs position as the world's biggest publicly voted music poll.
Last year, David Guetta was crowned as The World's No.1 DJ, for the second time — almost a decade after he first took the No.1 spot in 2011. Check out the full ranking at djmag.
Top 100 DJs Voting is now open via the link.