Already remixed in fiery fashion by 89 Keys, Dennis Sheperd's transformation of 'Always Alive' is another thrilling alternative to the intimacy of vast-sounding trance achieved by Danish double act Dicosis.
The wind in her hair, Alexandra Badoi's quiet storm of a performance glides along in a spacious universe, before the remix's centerpiece, in keeping with the original reaching seventh heaven, sets free a melody both blissful and banging to take ravers to the moon and back.
The man whose albums always seek affirmation – 'A Tribute to Life', 'Fight Your Fears' and this year's 'Find The Sunrise' – Dennis Sheperd, he of the Beatport-topping 'Fallen Angel', has become synonymous when it comes to top ranking remixes and collaborations, meaning 'Always Alive' is in the safest of hands.
Rank 1 and Talla 2XLC wasted no time in joining forces with the Berlin-based producer; Roger Shah, Orjan Nilsen, Markus Schulz and Richard Durand have followed suit, and his remix catalogue, providing fresh perspectives for Armin van Buuren, Above & Beyond, Gareth Emery and tyDi, speaks volumes.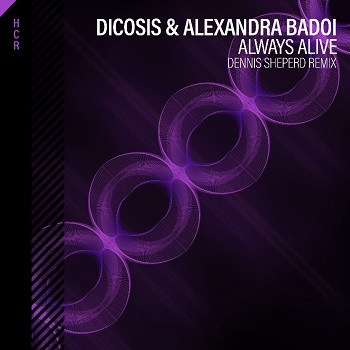 Add in hook-ups with Christina Novelli, JES, Ana Criado, Sylvia Tosun, Lady V, Jonathan Mendelsohn, Katty Heath and Molly Bancroft, and you can see why Sheperd's craft has taken him to London and LA.
An appearance on the travelling trance roadshow that was A State of Trance 600 secured next level exposure, and with the rest of the world lying in wait, his latest remix for Dicosis will keep his name alive and kicking.
Listen to the track here.