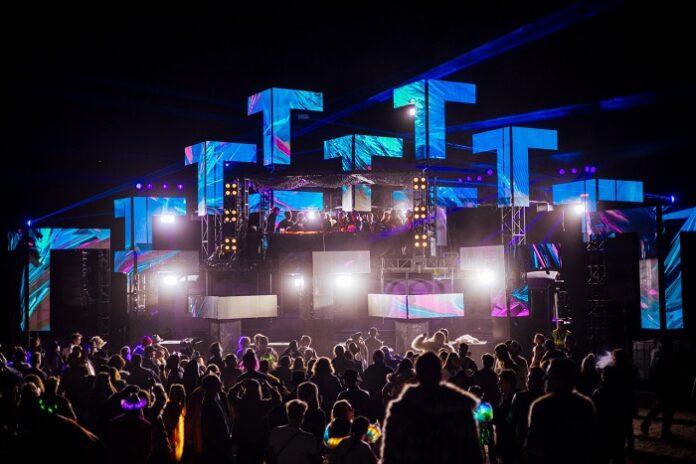 Love Machine is a four-day, life-enriching and soul-enhancing weekend getaway in the sun-soaked Jacumba Hot Springs, near San Diego, California.
This magical retreat plays out from November 12th – 15th 2021 and allows you to submerge yourself in music, health and wellness tucked away in the shadows of the California Desert. Music comes from world-class names like Mano Le Tough, WhoMadeWho, Audiojack, Doc Martin, Francesca Lombardo, Yokoo, Jonas Rathsman, Matthias Mayer and others, with live sets from WhoMadeWho and Stephan Bodzin Live.
Love Machine is a lovingly curated and intimate outdoor health and wellness retreat with mandatory covid entrance protocols. This escapist getaway features inspirational music, art, mindful and holistic workshops, yoga, and healthy lifestyle awareness and is based in the sun-bathed, boulder-strewn mountains of Jacumba California, just 75 minutes outside San Diego.
Love Machine will include performances and workshops from local talents as well as stars from around the world, with large art installations, a range of mouthwateringly healthy food and a focus on plant-based living all making it an unforgettable experience.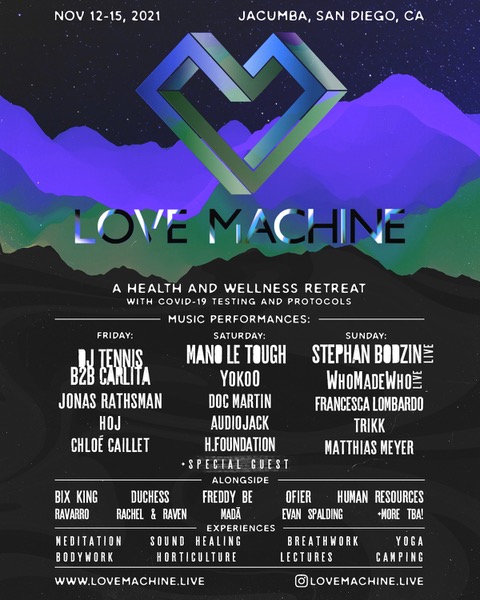 The stunning location is the historic and beautiful Jacumba Hot Springs, an unincorporated community in the Mountain Empire area of southeastern San Diego County. The gorgeous resort consists of a completely renovated restaurant with two pools and a spa with many natural features including its unique desert environment, hot spring and clean air. It is a unique place to get away from the hustle and bustle of everyday life and reconnect with nature.
This magical fall edition of Love Machine features a special back to back set from the acclaimed Life And Death boss DJ Tennis with rising star Carlita, a three hour exclusive from Innervisions house man Mano Le Tough and live sets from the best in the game namely WhoMadeWho and Stephan Bodzin, with further DJ sets from legendary US artist Doc Martin plus Audiojack, Francesca Lombardo, Matthias Meyer and more.
After the stressful times we have all lived through with the pandemic, Love Machine is the perfect tonic to store some much-needed balance and calm in your life.
Tickets range from $125 to $175 and are available via the link.