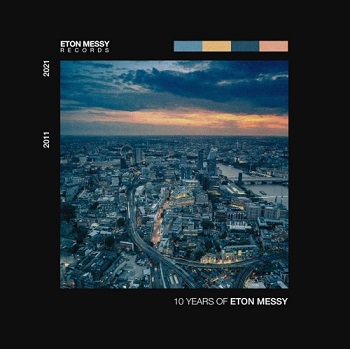 Leading into the Winter months, Christmas isn't the only celebration on the cards. UK underground House imprint Eton Messy step up with a definitive album that transcends from their humble beginnings to the current position of a respected and heralded brand within the electronic industry. Below we share a few words with the heads that created the globally recognised label and club moniker Ed Byass and Charlie Wedd.
Congratulations on celebrating Eton Messy's 10th anniversary. What has been a highlight over the years?
Hi, thanks a lot, it's certainly been a ride and a half.
So many highlights but it's probably DJing across Asia or playing at Glastonbury, doesn't really get much better!
How will Eton Messy be celebrating its 10th anniversary?
The 10 Years of Eton Messy Compilation is leading the celebration which is set tot drop on 3rd December with some OGs from the early days including The Golden Boy, Bondax and Karma Kid, but also new up and coming talent such as LEGATO, Sattam and Cortese.
We had a little announcement launch party at NTs Loft at the end of the summer and may be planning a little something else!
Apart from that just a big Christmas meal to celebrate!
Can you tell us more about the 10th anniversary compilation? What inspired the artist and track selection?
We wanted a blend of the past, present and future. We had several ideas of what it could look like and what would be realistic, but felt that combining some of the old faces that helped establish the brand with the new artists we've been backing would really identify where we want to take things next.
Where do you see the next 10 years for Eton Messy?
That's a big question as we were not always expecting to be here now. We naturally fell into being a label and nurturing talent and feel like we have a good understanding of running a label. Now we want to be a bit more ambitious with the projects we work on and really make an impact on some of these artists' careers that have just got going.
We really enjoyed our launch party in the summer so we've got a taste for that too. We have been brainstorming some cool ideas for the YouTube channel too, so you might see some interesting movements there in the next 12 months.
The industry is constantly changing, over the 10 years you've changed and adapted as a business, what is a new emerging trend that excites you both?
Sometimes it can be hard to keep up! When we first started as a label, downloads were the main lion's share of sales, so watching the industry adapt to running release campaigns has been seriously interesting, and it's been constantly evolving ever since!
Tik Tok & NFT's are an ever growing interest. Tik Tok in particular is having an increasing impact in Dance music campaigns which we are following closely.
Eton Messy started as a YouTube channel, grew into events and now a record label. What advice would you give to a young entrepreneur in the music industry?
Don't say yes to everything! Assess opportunities and get as much information as you can before making an informed decision, but ensure this doesn't hold up progress.
Don't be put off by mistakes or losses, those things will define you and never overlook the lessons they will teach you. 10 years on, we have definitely learnt the most from our mistakes and it's those lessons which are making us excited about what we could achieve next.
Also get your profiles active and looking professional, always make a good first impression and be patient, your talent will develop and progress, then pick the right time to roll it out.
What is a prominent challenge you face as an independent label owner?
Balancing everything you want to do with what is realistic. In all senses, with available time, finances, attention to detail and keeping focus. Both Charlie and I have full time jobs so time is always scarce, it's definitely helped us prioritise what is important though, which we feel has weirdly increased the rate at which the label is progressing.
What do you do to unwind and boost creativity?
Just try to switch off which is hard when you run your own business. Getting some head space can be difficult but that's where working together can help, one can give a breather to the other or step in to take some pressure off.
We tend to spend most of our time at home or just seeing friends and family at nice pubs! Although going to live events is also a great way to connect with our label friends and spark up fun ideas for releases. Some of the best ideas come from drunken chats on dancefloors 😉
Creativity comes in waves and most of the time late at night when disconnected. This is often when we tend to feel like we can look ahead and foresee any potential bumps in the road, or opportunities.
We recommend you checkout 10 Years Of Eton Messy, click the pre-save and tune into why these guys have become a staple of so many DJ sets and clubbing memories.
Pre-save now via the link.