There are just 3 more days to go before this year's long-anticipated edition of Tomorrowland Winter! Just like the summer edition in Boom, Belgium, Tomorrowland will be pulling out all the stops to give people at home the chance to enjoy the unique winter festival experience.
The People of Tomorrow can follow the magic of the 2nd winter edition of the iconic dance festival live from Wednesday March 23 till Friday March 25 via the Tomorrowland livestream on the link and in the Tomorrowland App.
Broadcasting live from this year's brand-new Mainstage and the Crystal Garden between 19:00 – 02:00 CET, people who couldn't make it to the festival will be able to enjoy unforgettable performances from the world's finest electronic artists amidst the beautiful ski resort and mountains of Alpe d'Huez (France).
View this post on Instagram
Experience The Gathering exclusively on Tomorrowland's One World Radio, broadcasting live from the French Alps all week.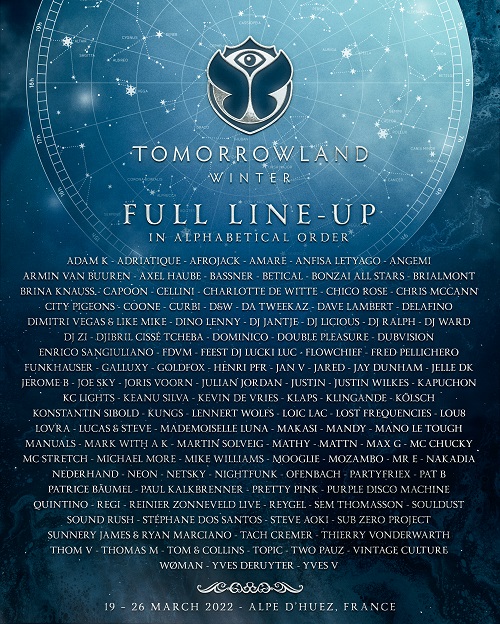 One World Radio – Tomorrowland's official radio station – will also be broadcasting live from the picturesque French Alps during the entire festival week, giving listeners a unique front-row experience 24/7.
Kicking off with The Gathering on Tuesday March 22, One World Radio will be the only place online where people can follow everything that's going on at Tomorrowland's one and only official opening party between 19:00 – 01:00 CET.
Wednesday March 23 to Friday March 25, One World Radio will be live between 12:00 – 02:00 CET, treating listeners to 14 hours of live radio every day from the different stages! This week marks the first time since 2019 that people can enjoy Tomorrowland footage in real time with many of Tomorrowland Winter's renowned artists entering the studio non-stop and lots of other exciting stuff going on…
Tune in to One World Radio all week long for the ultimate Tomorrowland Winter vibes via the Tomorrowland App, tomorrowland.com, YouTube and DAB+ (in Belgium, the Netherlands and French-speaking Switzerland)