Rising Electronic DJ and producer Hyper has teamed up with Wargasm's Sam Matlock and legendary trailer music composer Jack Trammell have deconstructed and reworked Nirvana's classic "Smells Like Teen Spirit"— the remix includes epic bass-infused energy that drives confidence and power to those who dare to experience it. But most importantly, Hyper and friends have crafted an authentic, heart-felt, and flat-out bombastic ode to Kurt Cobain's iconic song.
The track, out now via Position Music, comes equipped with a hardcore glitched-out visualizer video that artistically nods to Nirvana's cult classic music video and band imagery. Between the VFX-heavy filters of cheerleaders dancing with pom-poms, Hyper gleefully digging through grunge and punk-rock record crates, and a somber dedication scene at the famous Kurt Cobain bench in Seattle's Viretta Park near the house where Cobain tragically passed away in. With single artwork that resembles Nirvana's Incesticide album artwork it's quite clear that remixing this track meant quite a lot to the talented trio Hyper, Matlock, and Trammell.
The UK native Hyper, currently based in Seattle, grew up religiously digging deep through the Pacific Northwest grunge and punk rock scene and recalls the impact Nirvana had on the scene around the world.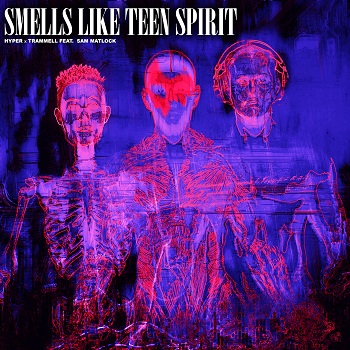 "Nirvana is as punk as they come. I remember when Nirvana's 'Bleach' came out and I devoured that record. Nirvana sent shockwaves through the punk and grunge community and unleashed a new energy that is, to this day, a constant muse for me and my fellow musicians. It was humbling to do this record, and Sam [Matlock], Jack [Trammell] and I wanted to make something fiercely original that still captured the essence and legacy of Nirvana." – Hyper
Featured artist Sam Matlock, one half of British electronic nu metal and post-hardcore rock duo Wargasm, is the son of Glen Matlock—the esteemed bass guitarist of The Sex Pistols—who had a massive influence on Cobain and Nirvana.
Sam Matlock brings both an onslaught of guitar riffs and his rough and edgy timbre that kicks "Smells Like Teen Spirit" into the highest of gears. A close look of the visualizer video shows a montage of Sam Matlock playing as Wargasm to massive festival crowds and mosh-pitting club audiences alike, yet another subtle hint at Matlock's devotion to bringing the same musical energy that Nirvana's live shows would also emit to millions of music fans.
Jack Trammell has a history of building music for video games and film trailers and now brings in Hyper and Matlock to combine their talents on one epic single that brings about a futuristic sound to Trammel's powerful drums and euphoric builds and drops that fans first heard on his own take on "Smells Like Teen Spirit" that was released on Position Music's 2017 Compilation The Rekreation.
"This was not done on a whim. 'Teen Spirit' meant everything to us. It really changed everything in punk and grunge. It is the track that caught the attention of the scene, both in the US and Europe. It reinvigorated an element of musical honesty that is so rare these days.
The song also means a lot to my hometown of Seattle as this is the same scene that Kurt broke with the Sub Pop record label in the late 80's and early 90s, and so we wanted to give our rendition of it the proper attention it deserves. We did not overlook or ignore any element of the original track, yet we also put our own batshit crazy spin on it that I'm certain will be a smash on festival stages this summer and beyond." – Hyper
Earlier this year, Hyper released "Post Punk" which featured two other legendary experimental electronic rock heavyweights in Iggy Pop and The Crystal Method. The single, out now on Ultra Records, was the first remix from Hyper this year, with "Smells Like Teen Spirit" being the second. Hyper has plans to release a third remix in 2022 to finish off what he calls the "Hyper Seattle Deconstruction Trilogy".
Listen to the track below!