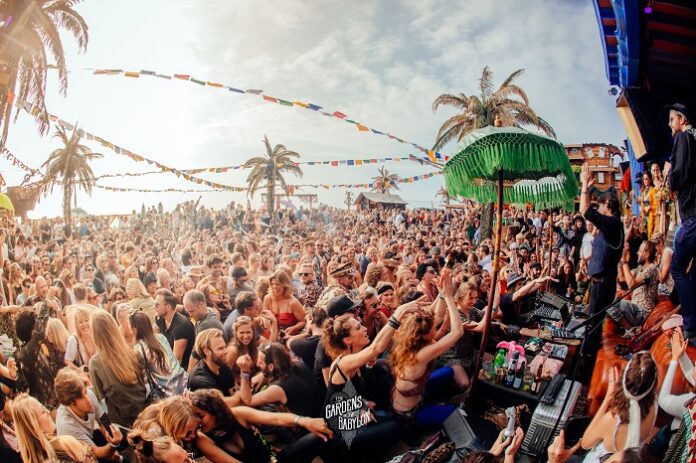 On May 14th, The Gardens of Babylon will host its first Amsterdam music festival at Noorderlicht and NDSM in Noord with the likes of Matthias Meyer, Yulia Niko, Robag Wruhme, Blond:ish, Stavroz [band], Kevin Valentine (live), Nasiri (live) and soundofoz amongst tens more.
After a long winter whirlwind of restrictions and lockdowns, and thus inevitable letdowns and setbacks, you may have found yourself in a deliberate state of hibernation. It's time to awaken from the slumber, after a period of transformation and change. Spring is here, summoning us to break free from our cocoons, emerging as colourful butterflies.
Transforming the NDSM wharf into a garden of vivid hues and inspiration, the team behind The Gardens of Babylon invite you to wear your most colourful outfit to spread your wings and flutter freely.
Divided over three stages, you will find DJs, live bands, acts, immersive performances, speakers, spiritual activities, and much more. The first stage offers 12 hours of music from the likes of Kompakt associate Blond:ish, a full band show from Stavroz who are known for injecting an overall ethnic, acoustic and organic vibe to electronic music, and electric back to back between Madmotormiquel and Sarah Wild. Also playing are Arabella Memdouh, Arabella Memdouh, Niv Ast [live] and the Kalaha Moon band.
Area 2 welcomes innovative talents from the worlds of house and techno including long time Watergate resident Matthias Meyer, the leftfield studio wizard and genre bending DJ Robag Wruhme and Berlin based Yulia Niko who releases on Damien Lazarus' Rebellion imprint as well as a hybrid show from Garden City Movement and a set from Sinai.
Area 3 is Levantine House and welcomes soundofoz, live shows from Nasiri, Kevin Valentine and Nawras Altaky as well as more from Breath & Energy, Salmaan and Hamada's Dabkeh.
Tickets available HERE!