As Miami is upon us and with Ibiza on the horizon – Xtravaganza Recordings' very own Alex Gold, presents 'Stranded in Paradise' (The Anniversary Remixes). Marking a highly anticipated release from the label's front man.
Titled 'Stranded in Paradise' and welcoming a selection of fresh 25th anniversary mixes, the record serves up a firm dose of Xtravaganza's trademark sound – as one of dance music's original trailblazers enter into their twenty fifth year.
Xtravaganza Recordings requires little introduction and was seminal in shaping early dance music culture, with the label also having played an instrumental part in launching Armin van Burren's career, with the release of his debut 'Blue Fear' – back in 1997.
Whilst Alex Gold and the label are also credited with executive production and crafting the early stages of Chicane's career, releasing and developing the first two albums and Balearic favourites 'Behind The Sun' & 'Far From The Maddening Crowd'. Xtravaganza then went on to create an enviable stable and clock up a number of much loved and classic releases, with the label firmly cementing itself in electronic music history.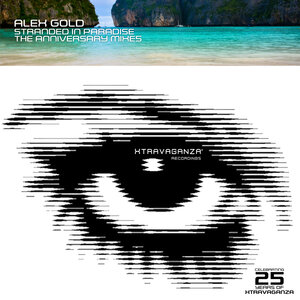 Founded in 1996, by the legendary music producer Alex Gold – his natural A&R talent, coupled with an unrivalled entrepreneurial spirit – saw Xtravaganza become one of dance music's true players and pioneer much of the early Balearic sound, delivering hedonism on a truly global scale. Notching up over fifteen million sales, the label would also go onto deliver two UK No1 hit singles and its internationally famed formula, for an accessible and cosmopolitan, Ibiza focused sound – has remained true throughout.
Across its expansive twenty five year history, some of the greatest names in dance music have appeared on the label – including Tiësto, Paul van Dyk, Above & Beyond, Chicane, Agnelli & Nelson, Chris Lake, Andy C (Groove Armada), Dëhasse, Adam K & Soha and Armin van Buuren.
And further highlighting its far reaching level of influence and industry dominance, recording artists such as Bryan Adams, Marie Brennan (Clannad), Phillip Oakey (Human League), Chuck D, Public Enemy and Prince – all went onto feature on the label.
Alex Gold himself (under his then Dëhasse alias) was also responsible for the remixes of the London 2012 Olympic Games theme tune, the Public Enemy cut – 'Harder Than You Think'.
Fast forward to the present, as 'Stranded in Paradise' takes up centre stage – hold tight.
Listen to the track below.