Audio Obscura X SORA will bring superstar DJs and producers such as Adriatique, Henrik Schwarz, and Nadia Struiwigh, to the Gashouder in Amsterdam, taking visitors on a unique immersive audiovisual adventure on January 28th.
Immersive audiovisual art brand Unfold.art announces the details of a collaboration with Audio Obscura and Cultural District Westergas for the 'rave' element of its upcoming launch show SORA—coming to Amsterdam this January.
SORA is a breathtaking new kinetic light installation that is taking over the iconic Gashouder for a residency of exhibitions, live show performances and a rave in early 2023.
Headlining the rave event on January 28 are Adriatique: the formidable Swiss duo who have a long-running partnership with Audio Obscura, and who will work with SORA creators NONOTAK to deliver a breathtaking once-in-a-lifetime show.
Working in synergy with each other, the two parties will create a long, hypnotizing and exhilarating set where the light art installation will be just as important as the sounds played by the talented house & techno act. Prepare to witness something you have never seen before on the cutting-edge of music and art.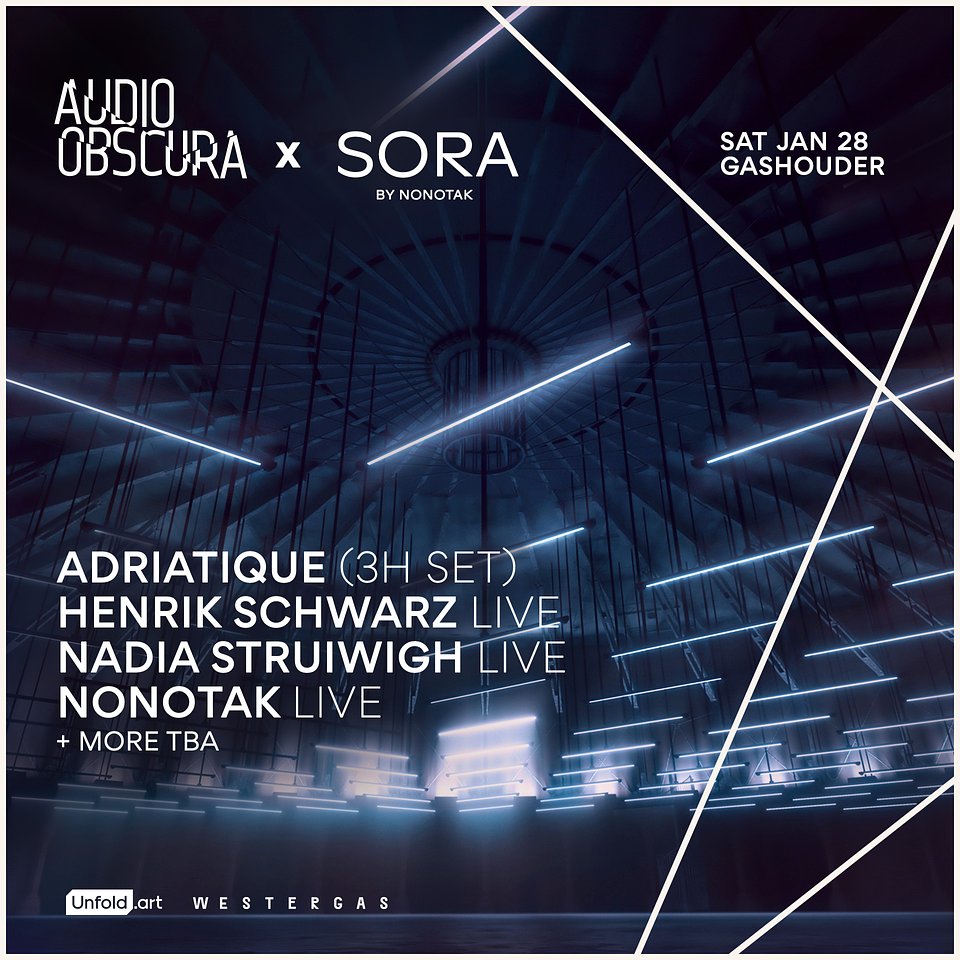 Unfold.art's aim is to make immersive art accessible for everyone, presenting large-scale experiences in collaboration with today's most innovative artists from the worlds of new art, media, technology and sound. These breathtaking projects will be toured through black box locations across the world, and each will be experienced in three formats: as exhibitions, live shows and a rave.
These different setups enable the art to become accessible for a global and universal audience; from young children to their grandparents from live music enthusiasts to art critics and from yogis to clubbers.
Anyone who witnessed Peggy Gou's incredible set at the previous collab between Audio Obscura and Westergas in early 2020, the forerunner to Unfold.art, will know that this is a show that is simply not to be missed. It will push the boundaries of what we know as an electronic music event like you have never seen and experienced before.
Pre-registration for Audio Obscura X SORA starts today, regular tickets go on sale December 8th via Audio Obscura's official website.