With Valentine's Day right around the corner, many people are looking to spice up their playlists with passionate tracks. Take one listen to Tim Clark's new single, "Forgiving Hearts" and it is clear that this song comes at the perfect time.
Collaborating with the incredible vocalist Robin Vane, "Forgiving Hearts" tells an emotional story of overcoming addiction and finding forgiveness in your relationship for the struggles it has caused in the past. The deep and meaningful lyrics are accompanied by ethereal soundscapes and a hypnotic bassline. Fusing multiple sound components together, "Forgiving Hearts" is an infectious hybrid of a pop ballad and EDM tune.
While "Forgiving Hearts" emits an aura overflowing with love, Tim has demonstrated his affinity for music in a variety of other ways. After founding an extremely innovative company called Tradebloc Inc., Tim decided to dive more into his career as a DJ and producer. Since then, he toured across the world, signed to Warner Music Group, and released hit singles like "Wake Up" and "Can't Sing".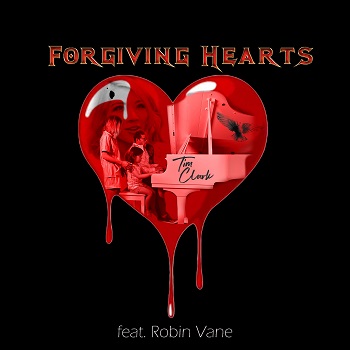 As the newest installment in his musical journey, "Forgiving Hearts" is a vessel for Tim to pour his heart out to his wife. This melodic masterpiece showcases his artistic vision and dedication to his craft. It signals the promising future ahead for Tim as he continues to captivate listeners with his signature sound.
"'Forgiving Hearts'" was written as an open love letter to my wife. The only way to be able to have success in a long-term relationship is that both [people] have to have 'Forgiving Hearts'. Now, I wrote the song to leave the reasonings open to anyone's interpretation. In my case, it was about a battle with addiction: my wife had had an issue with gambling and she was able to beat it. I'm so very proud of her because it took its toll on our family. But, we have forgiving hearts and better days are ahead of us."
Listen to the track here.