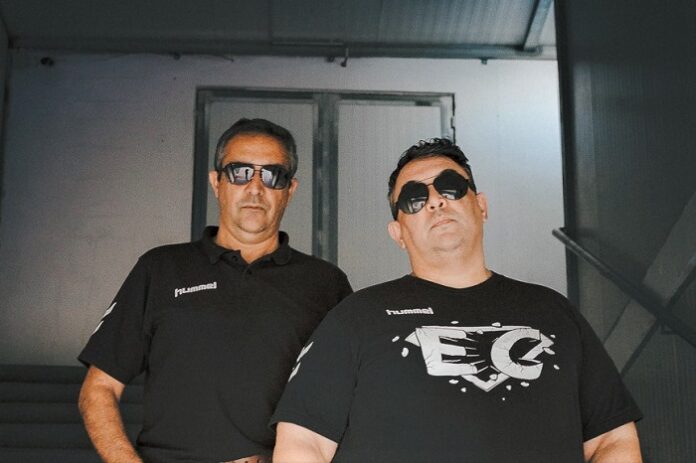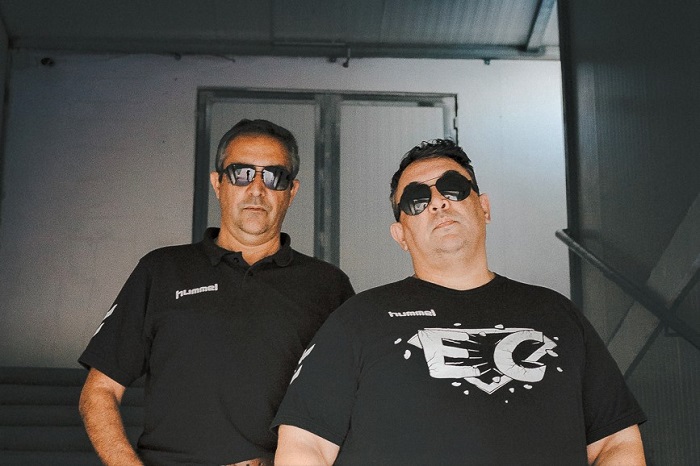 Bubba Brothers, the unstoppable force in the Electronic music scene, are taking their electrifying sound and infectious energy on a global journey with their highly anticipated 'Frenetic' tour. From the vibrant city of Faro to the iconic party island of Ibiza, Bubba Brothers are ready to make waves and leave a lasting impression on dancefloors around the world.
As the tour kicked off, the duo made their mark at the stellar 'Festas da Cidade' in Olhão, setting the stage for an unforgettable experience; but it's in Ibiza, the ultimate destination for music lovers, where Bubba Brothers will truly shine. Get ready to surrender to the groove as they take over the stunning Monkey Club, bringing their signature beats and mind-bending melodies to the heart of the Electronic music capital.
Elevating the 'Frenetic' tour to new heights, Bubba Brothers will be cruising through their tour dates in their impressive branded tour bus. This rolling party on wheels will serve as their mobile sanctuary of beats, igniting an atmosphere of excitement, anticipation, and pure musical bliss at every stop.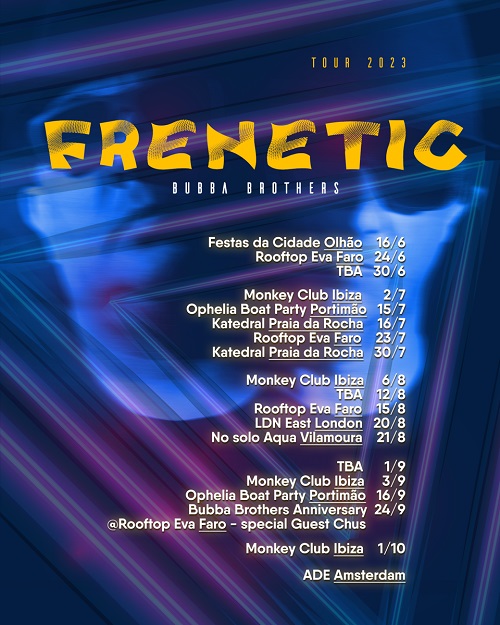 From the sun-soaked beaches of Ibiza to the pulsating energy of London's LDN East, Bubba Brothers will continue to push boundaries and redefine what's possible in the world of Electronic music. Their performances at Rooftop Eva in Faro and No Solo Aqua in Vilamoura will elevate the tour to new heights, delivering unforgettable nights of sonic exploration.
As the 'Frenetic' tour reaches its climax, Bubba Brothers will celebrate their anniversary in style at Rooftop Eva, joined by special guest Chus, in a night that promises to be the highlight of the tour. And as the journey nears its end, the grand finale awaits at ADE in Amsterdam, where Bubba Brothers will leave their mark on one of the industry's most prestigious stages.
Mark your calendars and prepare to join the talented duo as their infectious beats and powerful performances on their 'Frenetic' tour, promise to be an unmissable experience.
Tour Dates:
16/6: Festas da Cidade – Olhão
24/6: Rooftop Eva – Faro
30/6: TBA
2/7: Monkey Club – Ibiza
15/7: Ophelia Boat Party – Portimão
16/7: Katedral – Praia da Rocha
23/7: Rooftop Eva – Faro
30/7: Katedral – Praia da Rocha
6/8: Monkey Club – Ibiza
12/8: TBA 15/8: Rooftop Eva – Faro
20/8: LDN East – London
21/8: No Solo Aqua – Vilamoura
1/9: TBA
3/9: Monkey Club – Ibiza
16/9: Open Boat Party Portimão
24/9: Bubba Brothers Anniversary @ Rooftop Eva w/ special guest Chus – Faro
1/10: Monkey Club – Ibiza
TBA: ADE – Amsterdam