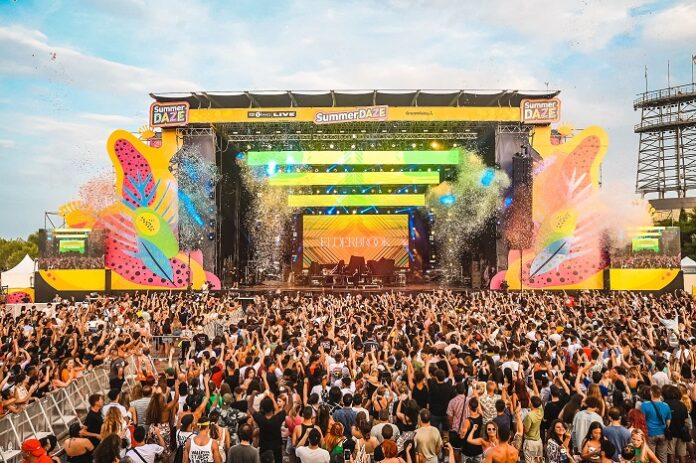 SummerDaze is a captivating full-week festival held in the idyllic island of Malta, transforming it into a thriving hub for music and entertainment. This annual extravaganza brings together renowned international artists and enthusiastic music lovers from around the globe.
Against the backdrop of Malta's stunning coastal scenery and vibrant Mediterranean culture, SummerDaze offers an immersive experience filled with unforgettable performances, pulsating beats, and a sense of endless summer bliss.
With its warm climate and picturesque landscapes, Malta has quickly emerged as a sought-after destination for music enthusiasts, solidifying its reputation as a beautiful summery island that harmoniously blends the allure of nature with the excitement of world-class entertainment.
Having become a true summer highlight, SummerDaze Festival is back this August with the hottest music a-listers around!
The main event will take place on the 15th August in collaboration with BBC Radio 1 Dance Anthems X and Creamfields, and the second will be held on the 18th of August, in collaboration with Radio M20 at the Ta' Qali Picnic Area.
The event on the 15th of August, will be headlined by music icons BLACK EYED PEAS, Puerto Rican megastar FARRUKO, Swedish hitmaker ZARA LARSSON & the platinum selling British collective D BLOCK EUROPE, supported by BBC RADIO 1 Dance Anthems' very own Charlie Hedges.
On the 18th of August, audiences will be treated to an Italian extravaganza with DEEJAY TIMES's very own ALBERTINO, FARGETTA, MOLELLA & PREZIOSO with Live Performances by superstar rapper and producer SALMO, TV personality, singer and social media influencer ELETTRA LAMBORGHINI, "the king of Italian reggaeton" FRED DE PALMA and 90's megastars HADDAWAY & DOUBLE YOU.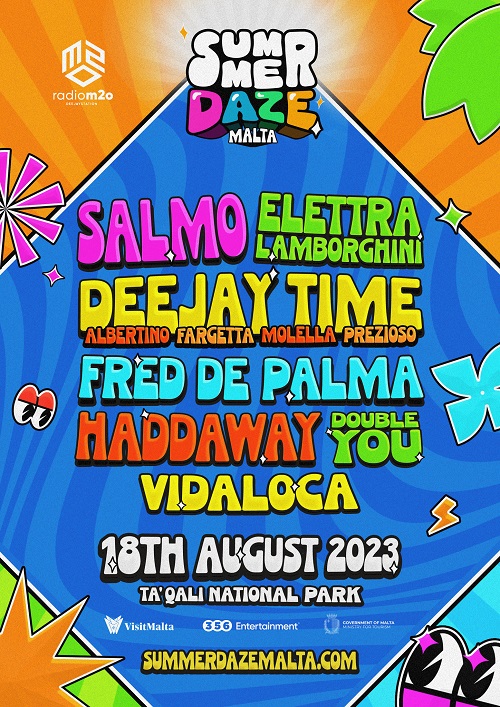 Supporting these two main shows, a series of satellite events will take place across the island throughout the week. Kicking off with VIDA LOCA on the 11th of August who will be taking over UNO, with the best of Hip Hop, RnB and Raggeton, followed by a memorable Boat Party around the breathtaking Maltese islands on the 12th of August.
On the 13th of August, festival attendees will get to experience the return of the biggest global streaming Italian artist in the history of music in Italy, MEDUZA, who will be soundtracking a sunset pool party at Cafe Del Mar.
On the 14th of August, BBC Radio 1 Dance X & Creamfields will be doing a showcase at Uno, headlined by none other than globally renowned producer and performer PAUL KALBRENNER and supported by BBC Radio 1 Dance X's very own ARIELLE FREE and LAYLA BANITEZ, ahead of the main event at Ta'Qali National Park on the 15th.
On the 16th of August, Italian Rapper SHIVA will be headlining at Uno and on the 17th of August SummerDaze Festival will take over Splash and Fun for a mega pool party. This will be followed by the final day of the festival on the 18th of August which will welcome attendees back to Ta'Qali National Park for the final Main Event.
The 11th – 18th of August will be a week you don't want to miss. Follow updates on all social platforms and get your tickets HERE!