Australian legend Timmy Trumpet, Israeli psytrance duo Vini Vici and Dutch hardstyle duo Sub Zero Project have combined their forces for the new collaborative single 'The Race', released on Tomorrowland Music!
Teaming up for the first time ever with their dynamic styles that bridge the sonic spectrum of progressive big-room, psytrance and hardstyle, the boys wrap it up in the perfect package with true rave energy, bringing to mind the iconic stages of Tomorrowland, where all three artists performed this year.
'The Race' is bound to be a fan favorite and a memorable debut collaboration for Timmy Trumpet, Vini Vici and Sub Zero Project, transporting you to your most epic past and future moments on dancefloors across the globe.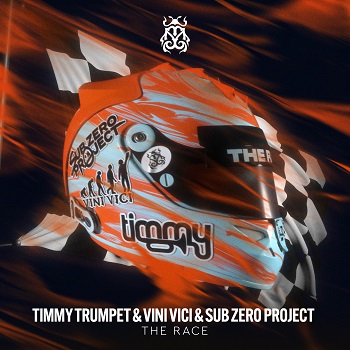 Speaking about the release Timmy Trumpet said: "I've been playing this track in my sets for months and every time it's absolute fire! Two of my favorite producer duos of all time on one record together. Sub Zero Project and Vini Vici – ready, set… GO. 'The Race' is on this summer!"
Vini Vici added: "We had an amazing experience working alongside Timmy Trumpet and Sub Zero Project on this new track. Their talent and creativity brought a whole new dimension to the music. It's been a long-awaited moment for us to release on the prestigious Tomorrowland Music label, and we couldn't be more excited to share this collaboration with all of you. Get ready to witness the magic that happens when worlds collide!"
And here's what Sub Zero Project had to say about the track: "We're crazy excited to drop brand-new music together with the legends Timmy Trumpet and Vini Vici! We already played this track on some of the biggest stages in the world this year and right now it's finally time to unleash 'The Race'… MAXIMUM POWER!"
'The Race' is out now via all platforms.