House music legends Soul Central and UK techno newcomer Syncia join forces with a remarkable remix of Sgt Slick's massive re-imagining of the 1980 INXS hit 'Just Keep Walking'.
This fantastic remix showcases expert drum programming and string work from the collaboration between Soul Central and Syncia paired with dark textures and monster bass lines that have become synonymous with their chart topping productions. Perfectly capturing the essence of the original mix while simultaneously highlighting their own distinctive sounds, this mix maintains an air of punk fueled energy directed at the dancefloor, raw and energetic in all the right places.
The Original mix, which first started off as a bootleg now has the official stamp of approval from the iconic Australian band eventually earning a full release on the renowned Neon Records. With its sleek and modern production, it received a massive response when first played at the annual IMS Conference in Ibiza this summer and premiered on Pete Tong's BBC Radio 1 show.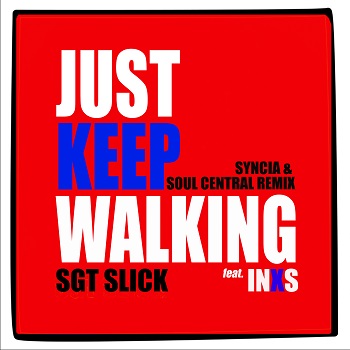 Soul Central is most famously known for their version of 'Strings Of Life' which became a worldwide anthem and one of the most prominent songs in clubland. The duo Paul Timothy and Matt Mckillop are presently celebrating 20 years at the forefront of House Music recently launching their label CENTRL Music with fantastic reworks of their all time classic.
With a myriad of residencies and appearances spanning across Europe, Australia and Asia on the cards including a massive NYE gig in Vietnam alongside Fatboy Slim, Soul Central's sound continues to guide the pulse of clubland, orchestrating a sustained celebration of the ever captivating realms of House music.
Syncia is fast becoming a serious name to watch on the global Techno circuit. Delivering a stream of releases that continue to find favour with major DJs, whilst engaging clubbers across the world with unbridled energy, driving drums and a defined underground edge.
2023 has seen the UK producer conjure an impressive catalogue of music in a short period of time, most notably serving as the initial release on Release LDN with his self-titled E.P, 'Syncia' and most recently delivering a compelling three-track package on Dense & Pika lauded Kneaded Pains which achieved the top spot on both the Beatport Techno and Melodic House & Techno charts and reached a rather impressive #19 positions in all releases.
2024 is set to be a huge year for Syncia, as he has a multitude of projects lined up including 2 EP's on Release LDN, an array of gigs including NYE at Studio 338 alongside Roger Sanchez, a new EP on Juliet Fox's Tregambe imprint and the announcement of the launch of his own branded event in the UK and Ibiza.
The remix of "Just Keep Walking" by Syncia and Soul Central is a custom-crafted track designed to ignite the dance floor. It showcases the collaboration of two powerful musical forces with distinct styles. Out on a strictly limited promo only, this will become a surefire weapon for DJ's across the globe.
Listen to the track below.