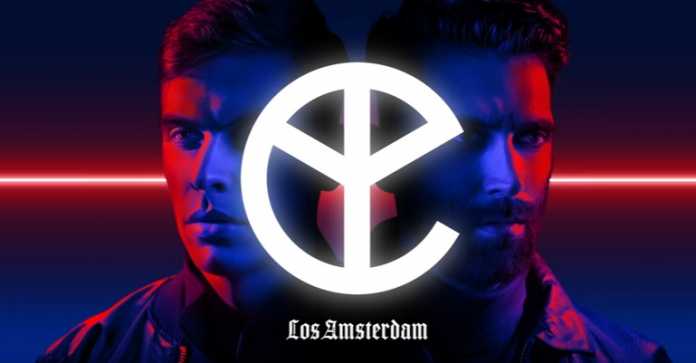 One of the heaviest hitters in town are back! Amsterdam-based duo Yellow Claw are gearing up for a colossal 2017 with the release of their brand new collaboration with DJ Snake and Elliphant titled "Good Day".
Their upcoming album "Los Amsterdam" is where the sound of future music lives, somewhere between Yellow Claw's native city (Amsterdam) and their second home (Los Angeles).
Two songs from the album titled "Invitation" and "Love & War," both featuring Yade Lauren have already been heard, and Today (February 24), the Dutch duo launch the album's pre-sale with brand new single "Good Day" featuring DJ Snake and Elliphant.  
"Good Day" echoes eighties new wave before slipping into a snappy and warbling vocal transmission from Swedish songstress Elliphant, "It was a good day." It marks Yellow Claw's third collaboration with French titan DJ Snake, continuing what's become a tradition.
Listen to "Good Day" below:
Tracklist for Yellow Claw's Los Amsterdam is:
01. Home (feat. Sophie Simmons)
02. Without You (feat. The Galaxy & Gia Koka)
03. Love & War (feat. Yade Lauren)
04. Good Day (feat. DJ Snake & Elliphant)
05. Open (feat. Moksi & Jonna Fraser)
06. City on Lockdown (feat. Juicy J & Lil Debbie)
07. Friends In The Dark (feat. Otis Parker)
08. Stacks (feat. Cesqeaux, Quavo & Tinie Tempah)
09. Last Paradise (feat. Soki)
10. Light Years (feat. Rochelle)
11. Hold On To Me (feat. GTA)
12. Rose Horizon (feat. STORi)
13. Invitation (feat. Yade Lauren) 
Tour dates:
Fri 2/24 Las Vegas, NV Surrender Nightclub
Sat 2/25 Denver, CO Fillmore Auditorium
Sat 3/4 Las Vegas, NV Surrender Nightclub
Sat 3/11 Montreal, Canada New City Gas
Fri 3/17 Las Vegas, NV Intrigue Nightclub
Fri 3/24 Las Vegas, NV Intrigue Nightclub
Sat 3/25 San Bernardino, CA Beyond Wonderland
---
Yellow Claw's new album is out April 7 on Mad Decent. Pre order HERE.