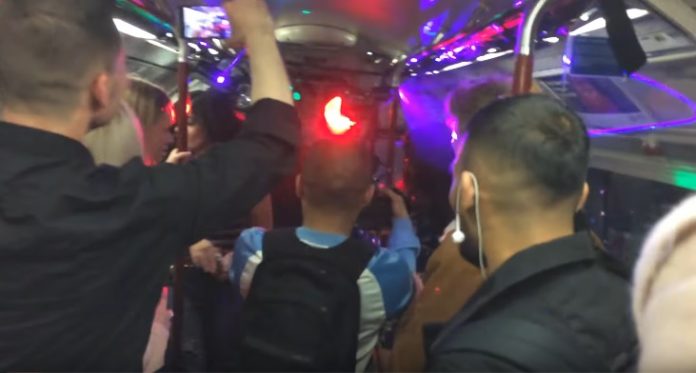 British Transport Police (BTP) were called on Monday night to shut down a "fully-fledged rave" on board a packed Tube train, featuring flashing lights, a DJ and a large sound system.
Footage shows laughing revellers dancing to booming drum and bass in the Bakerloo line carriage. They appear to have set up a large sound system, with the DJ speaking through a mic over booming drum and bass music.
Award-winning MC Harry Shotta can be heard shouting "wait for the bass, real live drum and bass on the Underground right now" before the rhythm switches and his crowd goes wild.
We've just removed a fully fledged rave from a Bakerloo Line tube! 🎉 All light hearted and very co-operative. #Bakerloo running normally.

— BTP Paddington (@BTPPaddington) April 10, 2017
A spokesperson for the BTP told the Evening Standard that officers were called to the Tube following reports of a party in one of the carriages.
"Officers attended and spoke with a man who agreed to turn off the speakers and the light systems, and then left the station. Whilst officers relish any opportunity to experience underground drum and bass, we'd kindly ask DJs to refrain from using the Tube as a pop-up club.
"It may be the Easter holiday but there is a time and a place and we'd ask everyone to consider other passengers using the network."
Check out the video below.