Praised by festival-goers and media alike as "The Best NYC festival of 2016," Founders entertainment is proudly bringing The Meadows festival back to Queens this fall.
The 2nd annual fest has expanded to 3 days from September 15th to September 17th at the Citi Fields Complex in Queens NY. Headliners for the event will include superstar artists such as Gorillaz, Big Wild, A-Trak, Bassnectar, Jay Z, and Red Hot Chili Peppers.
The layout of the festival consists of four main stages (Shea, Queens Blvd, Linden Blvd, and Meadows), as well as designated VIP sections for each location.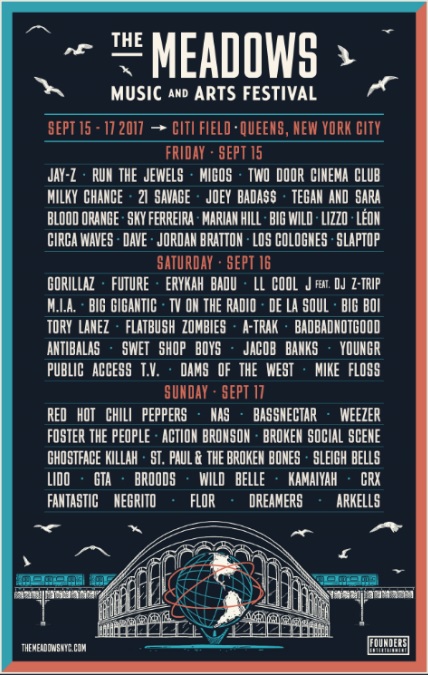 Aside from the music, Meadows will be featuring the beautiful work of local artists spread throughout Citi Fields. The art ranges in form from Graffiti style portraits to classic painted murals. The list of artists is currently to be announced. Last year's featured artists included Brooklyn based Dek, and Minus One.
In addition to art, Meadows is bringing back its two primary food curators, "The Infatuation" and the "FEASTival of Queens." Highlights of Infatuation include delicious selections from Luke's Lobster, Big Mozz, Ramen Burger, and Taiyaki. "The FEASTival of Queens" will be coordinated by food critic Joe Destefano, and will feature the best in Mexican, Columbian, Indian, Chinese and Thai food that the borough has to offer.
A limited number of single day tickets are still available for purchase.