It doesn't take a lot of brainpower to deduce that there's just no stopping Goldfish. After leaving a trail of energized crowds and mesmerized listeners in their wake with their 2017 album 'Late Night People' and all of the album's singles, the South-African duo have entered into a new chapter with 'It Was You', a phenomenal, sophisticated collaboration with Brazilian-American recording artist Zeeba.
With a breathtaking blend of striding vocals, deliberate percussion placement, gentle strings and subtle saxophone play, 'It Was You' tells a wonderful story that hooks in all sorts of ways. A truly remarkable composition that puts the versatility of both GoldFish and stream machine Zeeba in the limelight, the song strikes a chord in listeners as soon as they press play.
Here's what they say about their new collaboration:
GoldFish: "We've always been about songwriting that tells a story. With this track, it was really cool to step away from our normal style and create something slower and more emotional with Zeeba. It was a lot of fun writing together and Zeeba was the perfect musician and vocalist to collaborate and explore this side of our music personalities with. The song really speaks to how quickly life passes us all by, and we wanted to channel that feeling. It's bittersweet, just like life!"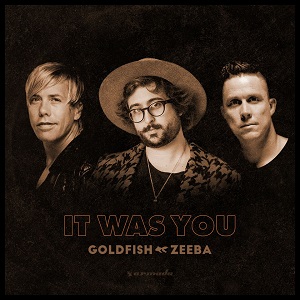 Zeeba: "I think that people will identity with the song not only because of its great vibe and really cool energy, but also because of the way it speaks about relationships and remembering beautiful moments – those we had when we were 17, when things were easier and we had less responsibilities. It's really that light sensation of returning to the place where we didn't have to worry about anything."
Listen to the track below.