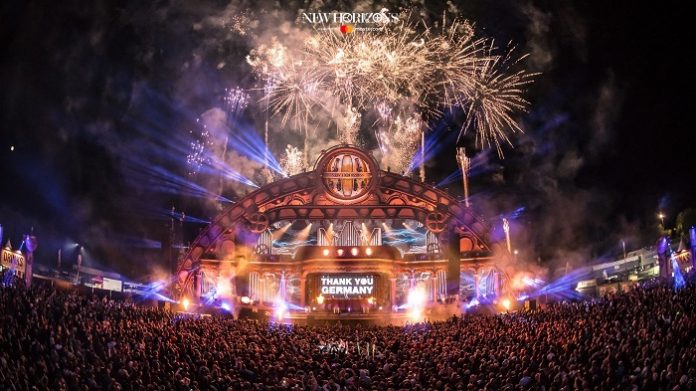 Platinum-selling American trio Major Lazer will touch down at the Nürburgring this August for their only 2019 performance in Germany, heading up the highly anticipated third edition of New Horizons Festival.
Located on the country's most iconic race-track, New Horizons has grown in stature since the 2017 birth of the brand, which has so far welcomed the likes of Armin van Buuren, Tiësto, Hardwell, Steve Aoki and many more to the five-day event in the heart of Germany's Rhineland.

Famed for their huge hits like the moombahton-inspired 'Lean On', an era-defining smash which has amassed over 1 billion Spotify streams since release, Major Lazer are best known for their huge festival-ready productions and dynamic live performances, led by DJ, producer, and 'Mad Decent!' label owner, Diplo.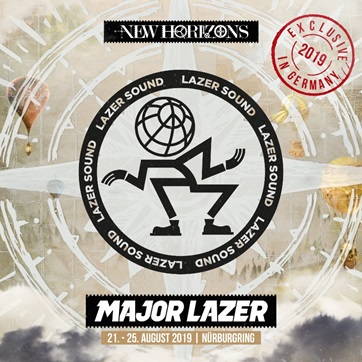 With the trio previously racking up worldwide acclaim on tracks such as 'Light It Up' and 'Cold Water', the group have worked with artists from almost every continent, including Beyoncé, Justin Bieber, Nicki Minaj, Ariana Grande, Pharrell Williams, Sean Paul, Ellie Goulding, and Anne-Marie.

Set to take place between the 21st and 25th of August, New Horizons 2019 promises to prove much bigger, more unique, and more majestic, than ever before, with Major Lazer's Walshy Fire adding: 
"We're not making the world smaller, we're making the party bigger". 
The news marks a festival exclusive for New Horizons; the only German event that Major Lazer will play at during 2019.

With New Horizons attracting more than 70,000 party goers for a jaw-dropping 2018 edition which included performances from the likes of Axwell /\ Ingrosso, and Marshmello, the festival offers fans seven different stages, celebrating a wide flurry of different styles of electronic music.
Already establishing itself as a truly stellar event in the dance music calendar, the announcement of Major Lazer as 2019's first headliners is set to be followed by a wealth of further all-star additions heading into the new year and beyond for what promises to be the most spectacular year of New Horizons so far!
All ticket details can be found here.