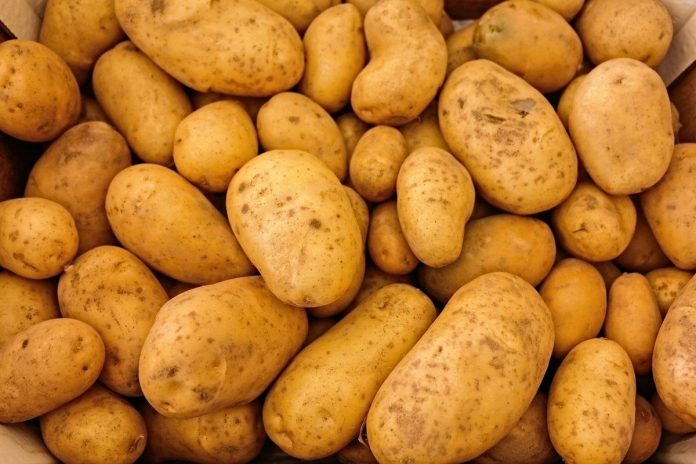 In the music festival era, festivals from around the globe are trying to amp up the anticipation and find new and improved ways to engage fans and build up hype. With an original angle, Truck Festival in Oxfordshire, England has been giving lineup clues in form of band names and artists written on spud potatoes.
The festival sent small care packages to a select group of fans. The packages contained a package of peanuts, confetti, a card that announced when the full line-up would be announced, as well as the spud potato that contained one performing band name written on it with a permanent marker. The back of the announcement card also had a riddle written on it that gave clues for other unannounced artists.
The fans that received the care packages have taken to social media to release the riddles and revealed band names, in hopes that people could put their heads together to crack the codes. So far the riddles have foretold that Nothing But Thieves, Two Door Cinema Club, IDLES, Kate Nash, You Me At Six, Foals and Shame will be performing at the event set to unleash on July 26th-28th, 2019.
The clever line-up revelation procedure is certainly groundbreaking, and is a fun way to get fans involved in the process, and also a fantastic way to generate a buzz. Great job, Truck Festival, way to be cutting edge in the music festival world. The full lineup is set to release on February 4. Stay tuned for details.
#truckpotato @TruckFestival looks like it certainly is what you know pic.twitter.com/jV6LSTLwad

— phee (@phee_hagan) February 2, 2019
thanks for the potato lol #truckpotato @TruckFestival @NBThieves pic.twitter.com/MQpRSJIw5S

— staf (@stxfii) February 2, 2019
Well that was the weirdest surprise in the post! @TruckFestival #TruckPotato pic.twitter.com/ckJAJCGWRl

— Amy (@fever__dream) February 2, 2019
could this lineup get any better ???? #TruckPotato @TruckFestival pic.twitter.com/HTpojteDmZ

— sophie louisa (@fluorescentsoph) February 2, 2019
#truckpotato thanks..i guess @TruckFestival pic.twitter.com/8RuFwG9C5t

— ellie (@elIiedesborough) February 2, 2019
@TruckFestival #truckpotato #truckfestival pic.twitter.com/mqA2BStbDW

— leah (@leahdxnni) February 2, 2019