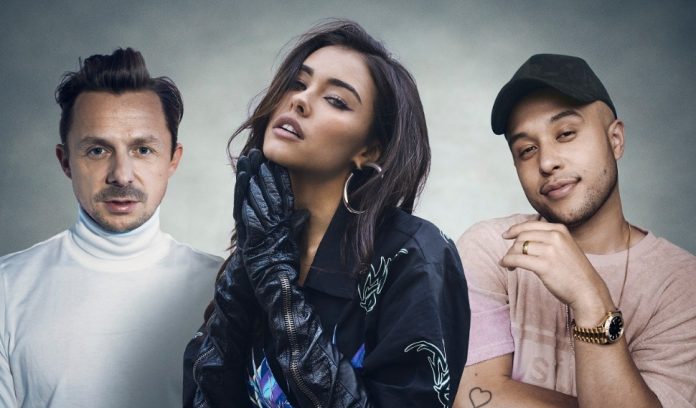 Europa have today unleashed their debut single 'All Day And Night', featuring popular US singer Madison Beer. Europa is Jax Jones and Martin Solveig: two friends who also just so happen to be multi-platinum artists (with over 4 billion combined streams), pushing each other to investigate musical avenues they'd never explore on their own.
Europa is club-focused pop music and pop-focused club music. Europa is friendship. Europa is a larger-than-life explosion of unexpected combinations, total freedom, unexpected twists and bridges not walls. Europa is the phrase 'stronger together' brought to life in vivid colours.
Born out of a mutual admiration and cemented by a hug given by Martin after Jax's set in Ibiza, the pair's collaboration has been a long time coming. It was only after Solveig made the Eurostar trip to Jax's London studio that they realised that they had something special and the spirit of Europa started to take shape: "for the first-ever Europa session, Martin came in and played a song with a cheeky sax riff in it." Jax adds ''He looked at me as if to say: 'This is a bit taboo, but we could try it.' And then I said: 'Well if we're doing that, how about TRANCE?"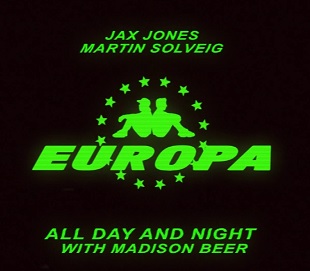 One delight of the genre-agnostic Europa outlook is that it's truly a project without hard borders, and with US singer/songwriter Madison Beer, who was recognized by Billboard on its 2018 '21 Under 21′ roster of the most promising young talents in music, contributing vocals to chart-ready walloper All Day And Night, Europa is also a celebration of frictionless relationships with the rest of the world.
"To have Madison on our first track is great. She has an undeniable truth in her vocal that we both really like and since launching her career she's become an influential voice of her generation," Martin comments.
Late last year Madison released 'Hurts Like Hell', which continues to climb the charts and was described by Complex Magazine as her "biggest track to date." The song is just a glimpse of what's to come from her highly-anticipated upcoming debut studio album this summer. Future singles will pair Europa with further still-under-wraps vocalists; they'll be complemented in Europa's live shows by a raft of club-ready cuts bursting with spontaneity and openness.
"A huge common point for us is that we want people to have fun," Jax and Martin explain. "Europa has allowed both of us to step out from what everybody else might consider reasonable. Music doesn't have to be reasonable. You might even say it shouldn't be."
Listen to the track below.