Once again the team at Insomniac put on another spellbinding event, and it was one for the ages. EDC Vegas 2019 captivated the hearts of the world by broadcasting live streams of its carnival-themed music festival, that hosted some of the biggest acts in the electronic dance music industry. The fairy tale setting that turns the desert sky into a neon electric sky lit up the lives of everybody watching at home and stole the hearts of the 465,000 in attendance of the sold out magical experience that was Electric Daisy Carnival 2019.
Even without the stellar lineup consisting of more than 240 of many of the top acts in the electronic music industry, spanning a diversity that covers nearly all styles of dance music, the event would still be an incredible experience. Visitors from 100 countries across the globe all gathered under the neon electric sky at the Las Vegas Motor Speedway to get lost in three days of love, lights, dance, unity, freedom, individuality, and music.
While the rest of the festival was sheer magic, the music portion was a once in a lifetime experience. Headliners were able to watch world-class sets from Above and Beyond, ARTBAT, Armin Van Buuren, Alison Wonderland, Chris Lake, Deadmau5, Dillon Francis, Fisher, Martin Garrix, RL Grime, Tiesto, ZHU, and many more.
A surprise set from Skrillex on Saturday night at the Circuit Grounds stage blew the crowd away and marked the return of the legendary DJ and Producer to the Premiere EDC stomping grounds. Other massive returns to EDC were David Guetta, who performed EDC for the first time since 2012 and put on a marvelous showcase at kineticField, and the bodacious dubstep producer Skream rocked his classic sound on the bassPOD b2b with Rusko for the first time in nearly a decade.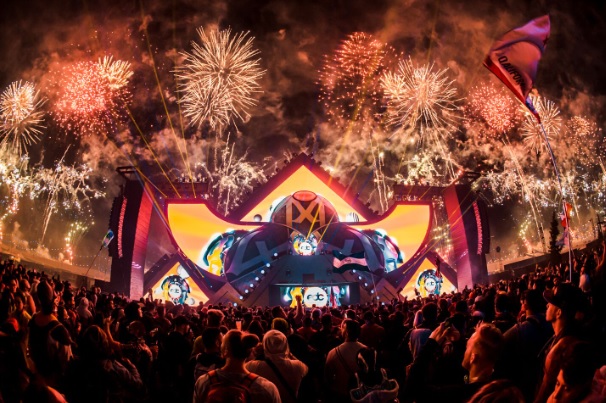 Eight breathtaking stages combined to ignite the electric sky, and each had its own individual style and flair. EDC took to a new design for 2019, giving the layout and several stages a new look and feel.
The different stages hosted a wide range of music styles. Dance music fans could fill their musical needs from hardstyle to trance and everything in between. To coincide with the stages were the multiple and magnificent Art Cars which joined forces with the stages at select times throughout the event and hosted some of the top performers of the EDC including separate performances from closing performers Delta Heavy and Dirtyphonics.
New stage designs for kineticField, circuitGrounds, cosmicMeadow, neonGarden, quantumValley, wasteLand, bassPod, and steroBloom, gave even the most seasoned Headliners something to gawk over.
The newly added Art Cars held various themes, Forest House had light-up trees with 50,000 watts of high definition sound. Icarus "mutated from a US Air Force cargo loader, this mobile spaceship features a 14,000-watt IMAX theater sound system and a hydraulic lift that rises 14 feet in the air." They were both very impressive new additions to go with the returning Mayan Warrior Art Car, that is inspired by the cosmic wanderings of the Ancient Mayans, and modern-day crop circles and images of sacred geometry.
Other new additions to EDC 2019 were Electric Avenue, and an enhanced Daisy Lane for headliners to stroll through the giant venue and take in the electric feels while finding time to connect with other headliners. The brand new Pixel Forest installation was a real crowd pleaser with its games, chill zones, DJ sets on the Forest House Art Car, and the next level trippy pixel tunnel drew which drew in the masses, people loved it.
Camp EDC pumped up the volume this year and boosted amenities and activities for its second year of action. Some of the activities this year were Goat Yoga, Rave Aerobics, Headbanger's Therapy, Standup Comedy, Twerk and Shuffle 101, Chakra Balancing, Essential Oil Yin, Free Play Yard Games (Bocce, Volleyball, Connect Four, Cornhole, Jenga, and Checkers), and a Salon and Spa.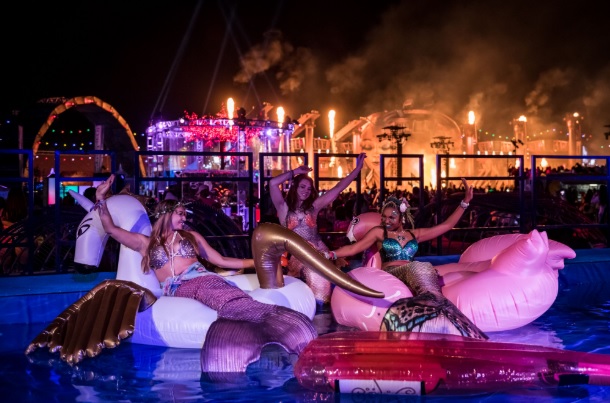 The campgrounds surround the Mesa, which was the hotspot for campers to enjoy the day and hit the swimming pool, and take in sets from a variety of DJs at the Bamboo Stage which was exclusive for Camp EDC ticket holders (where Kaskade held his tearjerking sunrise set). 25,000 headliners packed the camping grounds and took to social media revealing the magnificent campgrounds, letting those not in attendance know that camp EDC 2020 should be a top priority for dancing machines.
Including EDC, Insomniac has been putting on events for twenty-five years while producing more than 2,000 festivals, concerts, and club nights for nearly five million attendees across the globe. Founder Pasquale Rotella started the company for all the right reasons, and he has kept the core values of the rave scene intact through his tenure as a righteous party rocker.
Insomniac teamed with the global entertainment company Live Nation in 2013 and even with tremendous growth, PLUR has remained Insomniac's forefront. Guides are found in nearly any literature that comes from Insomniac on how to spread love and be a good festival Headliner (attendee). It is an amazing thing for an old school raver to turn their dream into something so truly remarkable.
This year, was my first experience at EDC Vegas, and it is one that I will never forget. The musical and visual effects had me in a complete trance for three nights straight. My favorite set of the whole weekend was ZHU. As he rocked his jacket that was full of festival bands from past events that he has performed at, he absolutely killed it. It was an hour full of beautiful spellbinding music.
A close second was the legendary Armin Van Buuren, who was phenomenal at EDC. I have seen him several times in the past, but his EDC 2019 set was astonishing. I danced my heart out and left it on kineticField. The bass was shaking my whole body, I could feel it in my toes. He put so much passion into his set and involved the crowd. It is obvious that after all these years demolishing stages, that he truly loves the rave culture, music, and rocking dance floors. It was an honor to lose myself to dance to the king of trance.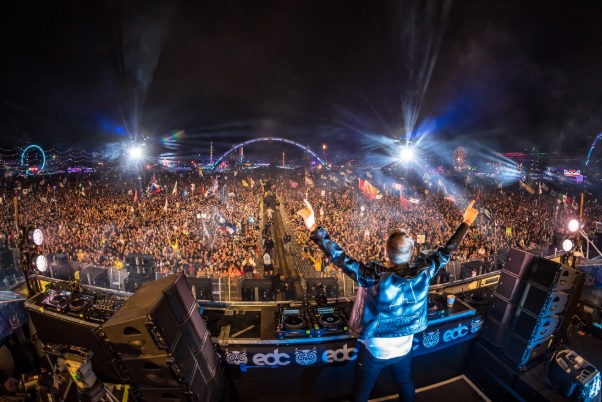 It is clear that the EDC experience can get a little pricey, and that it is not in everybody's budget to attend the grand show. It is recommended for all dancing machines and party people to start saving now, a few dollars here and there will really add up quickly. There are other festivals that are more easily accessible to the humans that live on the East Coast, but there is only one EDC Vegas.
Those that have stood underneath the electric sky all know of the captivating jaw-dropping delight that booms from the experience, those that do not know, need to make it their life mission to bask in its glory, and do not forget to secure a camping spot, that is a critical aspect of the experience.
EDC Las Vegas is one of the best music festivals on Planet Earth. Those that did not get to experience it first hand should check out the broadcasts from it. Unfortunately, it can not give an actual feel of the experience, but, it does give viewers a slight idea of the magnitude of it.
It is a colossal, mindbending, glorious, love fest that will live in the hearts of the attendees forevermore. It is the mack daddy of United States music festivals, EDC 2020, will be money well spent, be there or be square.