On Saturday, August 10 and Sunday August 11, Real Street Festival will make it's debut at the Honda Center Grounds in Anaheim, California. The festival is being tabbed as an immersive hip-hop lifestyle event that will host one of this years biggest lineup's spread across three massive stages.
Real Street artists will include Headliners like Future, Migos, A$AP Rocky, Big Sean, Meek Mill, 2 Chainz, Rae Sremmurd and so many more. In recent news, Real 92.3 has announced that Cardi B will be joining the party in Anaheim this August along with additional special guests that will soon be announced. This is the hip-hop festival of the summer, check out the full lineup below!
What made this festival a reality was the dedication and teamwork from Synergy Global Entertainment (SGE), the Honda Center, and iHeartMedia's REAL 92.3 with Big Boy's Neighborhood. As mentioned above, the event will feature three massive stages outside of the beautiful Honda Center. There will be two main stages – North Stage and South Stage, with the third being called the Underground Stage.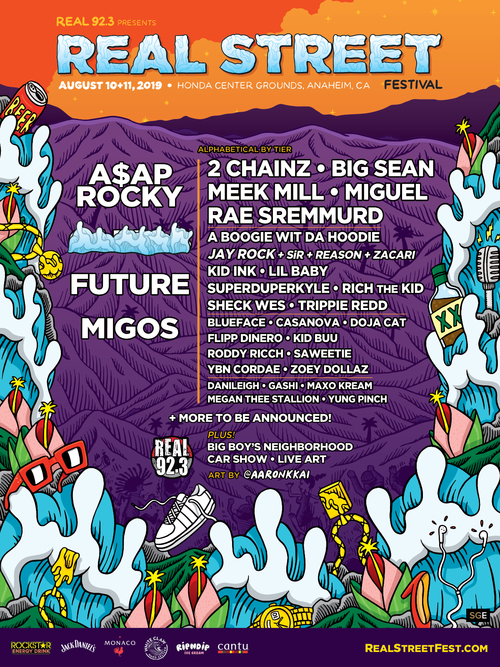 Along with three immaculate stages, Real Street will provide attendees with immersive art installations, live murals, a massive vendor village, separate VIP areas, and an artist alley. One of the coolest parts of the festival is what's happening inside of the Honda Center over the weekend. The fully air-conditioned arena will host Big Boy's Neighborhood & West Coast Customs Car Show. This will allow guests to cool down, relax, and enjoy a nail salon, a barber shop, live interviews, and much more.
Curtesy of 92.3, here's a more in-depth look at some of the main experiences that will be available to attendees at Real Street Festival this August:
Big Boy's Neighborhood: Big Boy's Neighborhood comes to life on center court inside the Honda Center. Visit Big Boy's own barber shop, nail salon, graffiti wall, and more, and even watch live artist interviews. You never know who will stop by the Neighborhood.
Car Show: West Coast Customs is bringing this car show to the next level with their custom automotive works of art, inspired by hip hop and curated with the help of some amazing street artists.
Art Walls & Murals: Acclaimed street and graphic artists will be painting live all weekend long, on massive billboards, canvas and graffiti walls throughout the festival. Watch the art come to life as the venue is transformed into an art show with one-of-a-kind custom pieces for Real Street.
Artist Alley & Vendor Village: Get lost in the Artist Alley and Vendor Village. Check out the artists selling and exhibiting their art and goods, and brands that resonate in the street culture scene.
California Love Thunderdome: California Love is inspired by one of the most iconic hip hop songs. This Thunderdome bar will serve as the perfect backdrop to your Instagrammable photo shoot, with pyro shooting in the sky and Mad Max-esque performers serving you cool cocktails on a sunny California day.
Tickets are still available but are going fast! Grab yours here!