Grammy nominated House music DJ and producer, Alesso released his brand new single 'Sad Song' feat. TINI
The uplifting vocal track with heartfelt lyrics on unrequited love sees DJ and producer Alesso team up with one of the most exciting rising Latin American stars TINI.
Here's what Alesso had to say about his new track:
"What I love about this song is that there are different ways to listen to it. You can get lost in the beat because it's happy, but the lyrics tell a sadder, more emotional story. So, all together, I think it shows that love is complex and you can lose control when you're in love."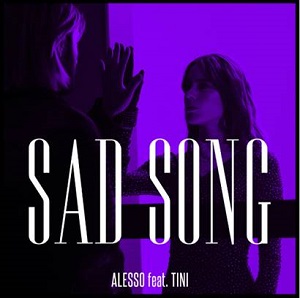 While TINI says: "I'm so excited for the opportunity to record this song with Alesso. I respect him so much, and it's been a long-time dream of mine to work with him. I hope everyone loves the song as much as we do!"
Last Saturday night, Alesso returned to the prestigious BBC Radio 1 Essential Mix for an unmissable two-hour mix of the best new and classic dance tracks. Listen to the brilliant mix here.
The first hour of the mix is a selection of Alesso's favourite house and techno with tunes by artists including Canard, Michael Bibi, Fisher and Siege, while the final hour is a mix of classic tracks and old school songs that the Swedish maestro listened to growing up.
The Essential Mix follows the release of Alesso's new mixtape, 'Alesso Mixtape – Progresso Volume 1′ – the first in an ongoing series of special track collections released via 10:22pm in association with Shots Studios/Virgin EMI for UK. The three-song mixtape, which is available now, finds the influential artist returning to a more club-inspired sound.
Listen to the track below.