Allen & Heath are doing spectacular things for music. We should all pause for a moment and thank them for making equipment that is powering the music world, and giving artists the ability to pour their heart and soul into the music that they create. Where other products will technically get the job done, they can not stand up to any of the products that Allen & Heath make available to the public.
The beauty of their consistent influx of state of the art gadgets is that they give options to music makers. In terms of mixing devices, they have a scale of multiple high powered, economically sound options that are available for musicians in every phase of the game.
While they do offer a product that is the industry standard mixing device (Xone:96), even their most basic mixer (Xone:23) gives the user unlimited abilities to produce pure sounding music. It is apparent that they are crafting their elegant products and are making them available to the average person for love.
High performance is an understatement when talking about any of Allen & Heath's products, they all are built tough, and are designed to let the user tap into their full potential and unleash their sound on Planet Earth. If a musician depends on intricate sounds to get the point of their music across, then they know, or should know that any mixing device from Allen and Heath is what they need to be utilizing in the mixing lab or on stage.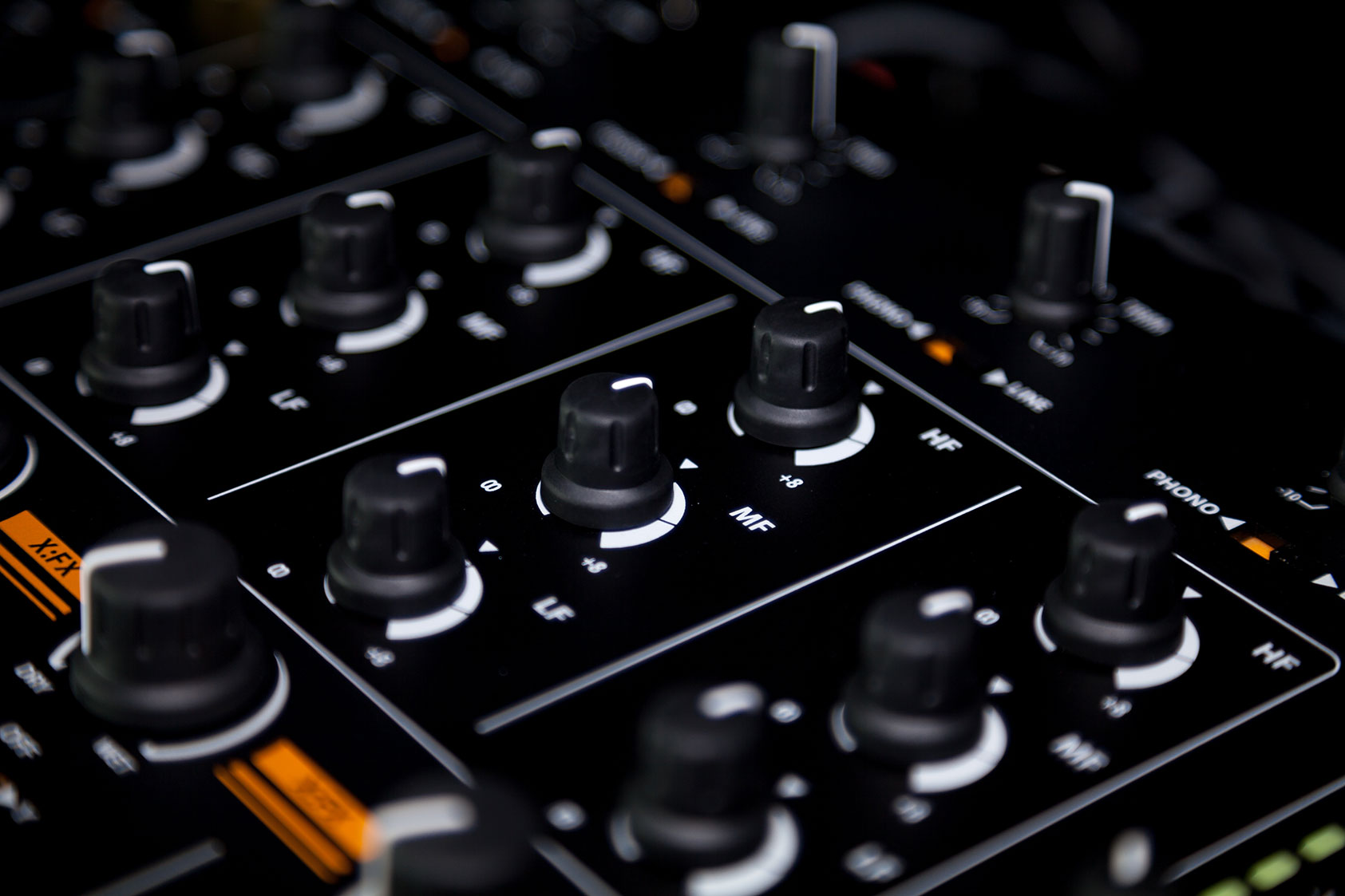 According to the Allen and Heath, the Xone:43 "Was built specifically for DJ's and music purists", and it puts a modern spin on an old school thought process. There is not a USB port, and it was not designed to be digitally compatible. This mixer was built for people that want to link up their turntables or CDJ's and rock the party while making precision cuts on the ones and two's; and it is a beast of a mixer.
This intricate mechanism is not the elite mixing device that is being used at the high end clubs across the map, nor is it the industry standard mixing device, but it is dynamite apparatus that gives the user the ability to go haywire on it. Analogue is the keyword when discussing the Xone:43, however, nobody is discrediting digital formats of music, it is just that not every artist needs the rigmarole of the top of the line mixer.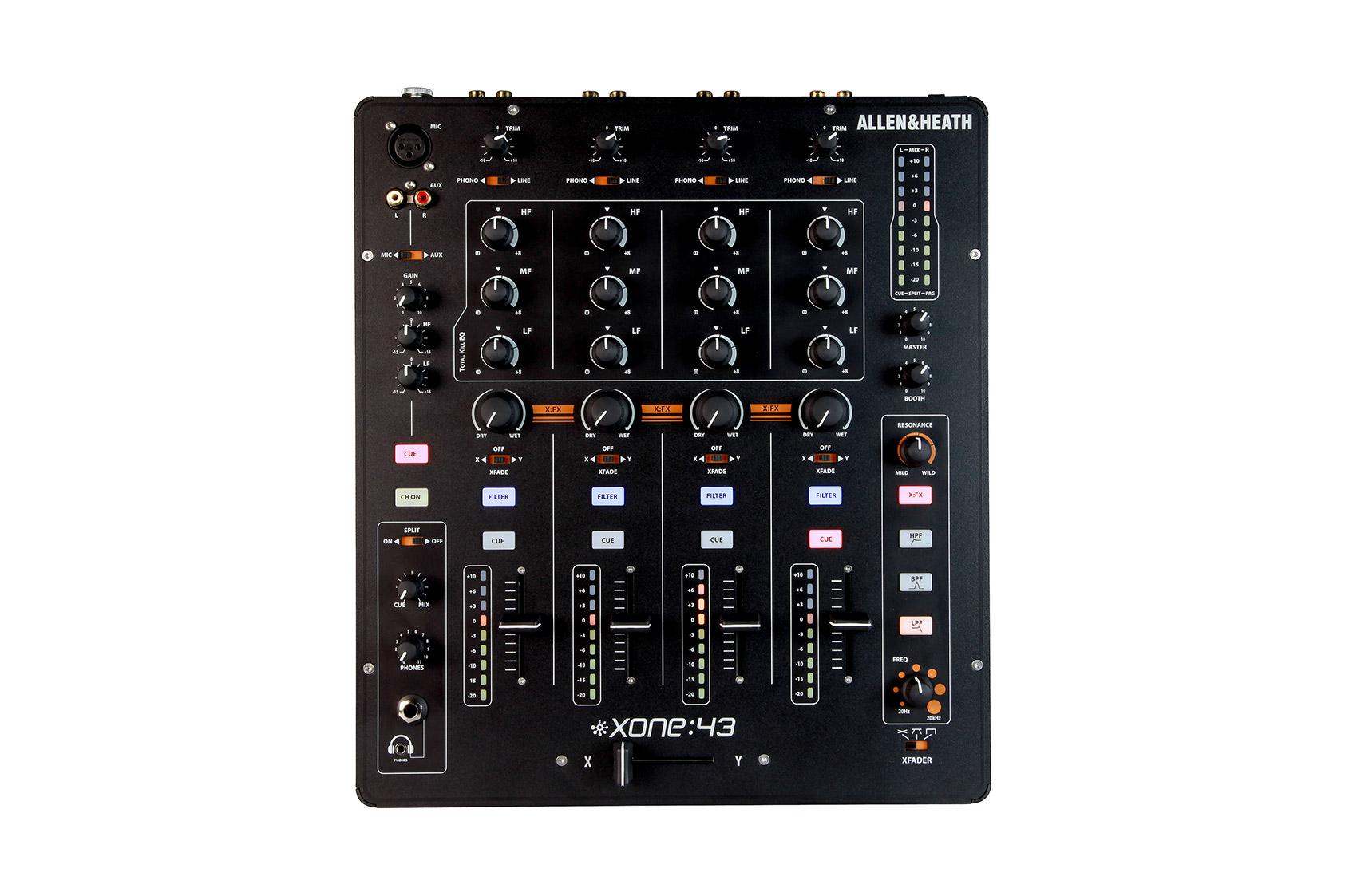 Xone:43 is a 4+1 channel DJ mixer that offers the very best of analogue audio quality, including the legendary Xone filter with resonance control, 3 band EQ, crossfader with three curve settings and X:FX for send/return to your favorite FX unit.
The crossfader has three switchable curve settings for blending or scratching styles and can be easily replaced or upgraded to a custom Innofader for ultimate crossfader performance. With balanced XLR main outputs, independent booth and record outputs, Xone:43 excels in the club and in high end personal DJ setups.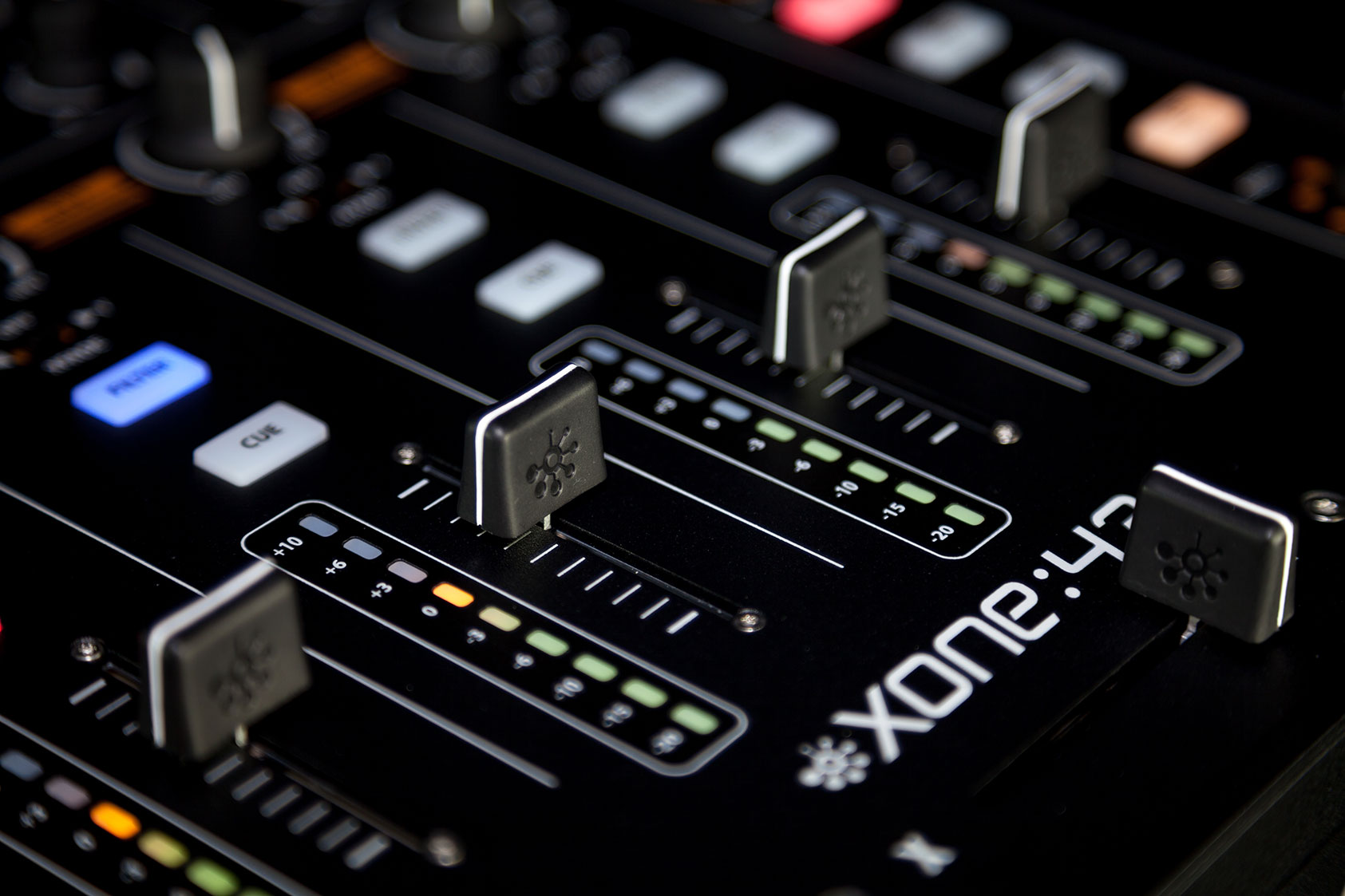 Features:
• 4 channels with phono/line inputs
• VCF Filter system – low-pass, high-pass and band-pass filters plus frequency and resonance controls
• 3-band EQ
• External FX loop (Send/Return) system with dry/wet control per channel
• Mic input on balanced XLR, with 2-band EQ
• Balanced main mix out on XLR
• Independent booth out
• Record out
• 3.5mm and 1/4″ headphone outputs
• Touring grade build quality
• Super smooth VCA channel faders
• User changeable crossfader
• Innofader compatible
• Crossfader curve switch
• 20dB pro standard headroom
• 9-segment signal level monitoring
The artists out there that are not interested in implementing the digital format into their sound should all be using the Xone:43 as their daily mixer. It is the bee's knees and the total package (affordable, durable, user friendly, magical) and it lets the user unlock their full potential.
We love you back Allen & Heath, thank you for doing your part in the battle to keep music pure, you are winning the fight.