ANNA and Kittin link for their debut collaboration 'Forever Ravers', an ode to the freedom, unity and acceptance that exists in the dance music community.
This has been huge at festivals throughout the summer and has the potential to be the biggest track of ANNA's career to date.
Here's what ANNA had to say about the track:
"This music is about the euphoria we feel when we are on the dancefloor listening to our favourite song and we let it all go; our thoughts, our problems, our frustrations, and become one with the moment. It is about freedom, unity and acceptance that exists in our dance music community."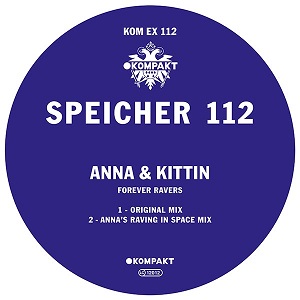 For over 25 years, KOMPAKT strives to bring techno, house and everything in-between to the dancefloors of generations that come from (or lives) in the past, present, and future. Today, they proudly present an anthem that truly speaks to us in the spirit of what lead them to create their Speicher series.
ANNA returns for her third round on Speicher following an incredible year of non-stop touring the globe, remixing Jon Hopkins and contributing to a recent Afterlife compilation. Kittin (formerly known as Miss Kittin) needs no introduction ‐ she is nothing short of a trailblazer in dance music history by contributing countless times through her voice, music and DJing.
Together they are Forever Ravers ‐ dispatching a message of everlasting unity for the dance floor community. ANNA brings her most voracious production skills to date interwound with KITTIN sounding at her best in an explosive consequence that we can only describe as being a must-hear techno hymn.
ANNA takes the original past the stratosphere with her Raving In Space remix. Not to be misinterpreted as a dub version, ANNA keeps the potency of the original but expands the core instrumental elements that moves from suspension to release in a decisively throttling means.
"When I started to work on this track, I could not envision how it would turn out, I was just making it, bit by bit. After doing the first beats, I made the bassline using Reaktor. The sound and the sequence reminded me a bit of the old school stuff from The Hacker and David Carreta and the idea of inviting Kittin to do the vocals came to mind. She said she loved the track and she was gonna do the vocals and the result could not be better.
I am a huuuge fan of hers going back many years and I have a lot of her records from when I started playing, right through to her recent productions. I remember when she went to Brazil about 15 years ago to play at one of the most loved clubs there at the time called Lov.e. I could not be there but I saw her on TV when she gave an interview on one of the country's biggest channels. I vividly remember calling all my family to see it ‐ I felt a huge admiration for her, her music, her style and everything about her. And I still do!
I was a 17-year-old living in the Brazilian countryside at the time watching one of my idols on TV and could never have imagined that one day we would be doing a track together. Life is so unpredictable and this is a beautiful gift that music gave me." — ANNA
Watch video of it's creation below.