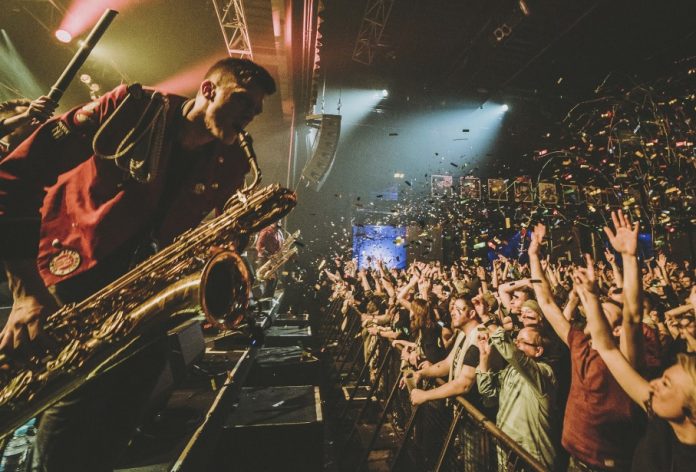 Having captivated audiences across the globe, techno marching band MEUTE is set to release its second studio album, PULS, on February 21, 2020 on the in-house label TUMULT.
Today, the group releases their rework of Deadmau5's "Slip" with the accompanying video shot in the harbor of Ibiza a day before joining Solomun for a guest performance at Destino.
Additional artists getting the MEUTE treatment on the album include Flume, Röyksopp, Kölsch, Rival Consoles, Boris Brejcha, and Oscar House. For the first time, the band also includes three original compositions that fit in seamlessly.
MEUTE garners much respect from the DJs they reinterpret. Flume dusted off his saxophone in November and jumped on stage with the guys at the Studio Brussel Showcase to perform the album track "Rushing Back" . It was MEUTE's guerrilla video covering Flume's "You & Me" that helped make them go viral; it currently has over 27 million views and counting.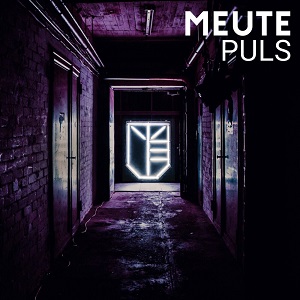 The group's live videos, either from the streets or the clubs, make waves across the internet. As seen in the recording of "Panda" shot amongst the crowd at San Francisco's Great American Music Hall, excitement radiates from the screen. When the fire alarm triggered the power to be cut at Boston's Sonia, MEUTE took the party to the street, and the crowd kept dancing to the rework of Laurent Garnier's "The Man with the Red Face".
What started as an experiment on the streets of Hamburg, St. Pauli, Germany has quickly evolved into a world-acclaimed phenomenon. MEUTE combines hypnotic driving techno and expressive brass band music, freeing electronic music from the DJ desk and overhauling the image of marching bands. Just drums and brass, no computers involved, this is all they need to revolutionize techno music and bring it back to its roots at the same time.
The reputation of their legendary live show precedes them across borders and was captured on the LIVE IN PARIS album released last year. The eleven musicians in their iconic red jackets induce a euphoric state of mind and unveil a world of electronic indulgence to their audiences.
MEUTE made its way to North America for the first time in the fall of 2019 and sold out shows in New York City, Los Angeles, Chicago, San Francisco, Toronto, Montreal, and more. 2020 finds them touring throughout Europe with summer North American dates to be announced. So far in the US, they are confirmed at Electric Forest Festival in Rothbury, MI and Lockn' Festival in Arrington, VA this June.
MEUTE – PULS tracklisting
Panda (Oscar House Rework)
Holy Harbour (MEUTE Original)
What Else Is There (Röyksopp Rework)
Push (Kölsch Rework)
Purple Noise (Boris Brejcha Rework)
Slip (Deadmau5 Rework)
Unfolding (Rival Consoles Rework)
Endling (MEUTE Original)
Raw (MEUTE Original)
Rushing Back (Flume feat. Vera Blue Rework)
MEUTE PULS Tour + Festival Dates
February
25 – Lisbon, Portugal – LAV
26 – Porto, Portugal – Hard Club
27 – Madrid, Spain – La Riviera
28 – Valencia, Spain – Sala Repvblicca
29 – Barcelona, Spain – Razzmatazz *SOLD OUT
March
4 – Brussels, Belgium – Ancienne Belgique *SOLD OUT
5 – Amsterdam, Netherlands – Paradiso *SOLD OUT
6 – Mannheim, Germany – Maimarktclub
11 – Bochum, Germany – Jahrhunderthalle
12 – Paris, France – L'Olympia *SOLD OUT
13 – Lyon, France – Le Transbordeur *SOLD OUT
14 – Marseille, France – Le Moulin
15 – Milan, Italy – Alcatraz
17 – Bern, Switzerland – Bierhübeli
18 – Frankfurt, Germany – Batschkapp *SOLD OUT
19 – Linz, Austria – Posthof
20 – Vienna, Austria – Wiener Konzerthaus *SOLD OUT
21 – Berlin, Germany – Columbiahalle *SOLD OUT
26 – Malmö, Sweden – Babel
27 – Stockholm, Sweden – Debaser
28 – Copenhagen, Denmark – Vega
April
1 – London, UK – O2 Forum Kentish Town
2 – Manchester, UK – O2 Ritz Manchester
3 – Leeds, UK – Stylus
4 – Glasgow, UK – SWG3
5 – Bristol, UK – Marble Factory
16 – Cologne, Germany – Palladium
17 – Würzburg, Germany – Posthalle
18 – Munich, Germany – TonHalle *SOLD OUT
19 – Budapest, Hungary – Akvárium Klub
20 – Prague, Czechia – Roxy
22 – Poznań, Poland – Tama *SOLD OUT
23 – Gdańsk, Poland – B90
24 – Kraków, Poland – Klub Studio
25 – Warsaw, Poland – Progresja
May
4 – Hamburg, Germany – Grosse Freiheit 36 *SOLD OUT
5 – Hamburg, Germany – Grosse Freiheit 36 *SOLD OUT
6 – Hamburg, Germany – Grosse Freiheit 36 *SOLD OUT
June
11-14 – Augsburg, Germany – Modular Festival *Show Date TBA
21 – Arrington, VA – Lockn' Festival
25-28 – Rothbury, MI – Electric Forest *Show Date TBA
*North American dates in June/July TBA*
July
15 – Freiburg, Germany – Zelt-Musik-Festival
16 – Erlangen, Germany – Kulturinsel Wöhmühle
17 – Ostrava – Colours of Ostrava – Czech Republic
18 – Transylvania, Romania – Electric Castle
August
7-8 – Piešťany, Solvakia – Grape Festival *Show Date TBA
20-23 – Flugplatz Pütnitz, Germany – About You Pangea Festival *Show Date TBA
29 – Stade, Germany – MAMF Festival