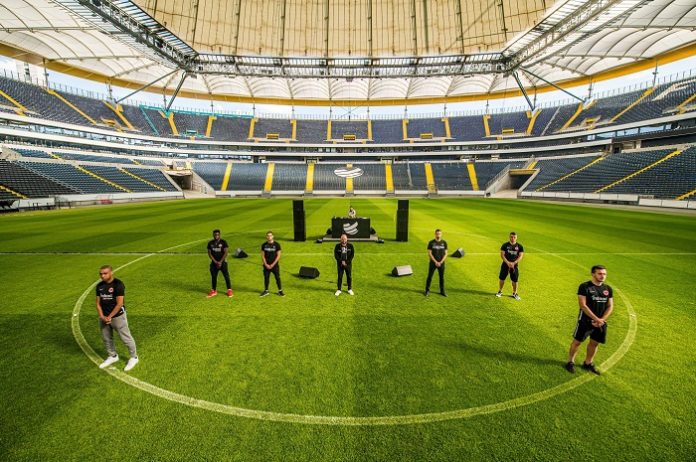 BigCityBeats 'World Club Dome', Eintracht Frankfurt soccer stars, and international superstar DJs live from Seoul, Amsterdam, Tel Aviv and Miami offer the world positive vibes and messages of hope.
Every crisis needs optimism and German soccer superstar Lukas Podolski, speaking live from Istanbul, said it best stating; "At some point we will get through this shit". Podolski was speaking at the beginning of Big City Beats Life, the world's first big stadium event held in 2020.
On Saturday during their impressive opening ceremony, BigCityBeats message to the world was powerful and elegant. 'Let's not be disheartened, take courage in the knowledge that someday soon we can all look forward to celebrating "the biggest club in the world" at the Commerzbank-Arena.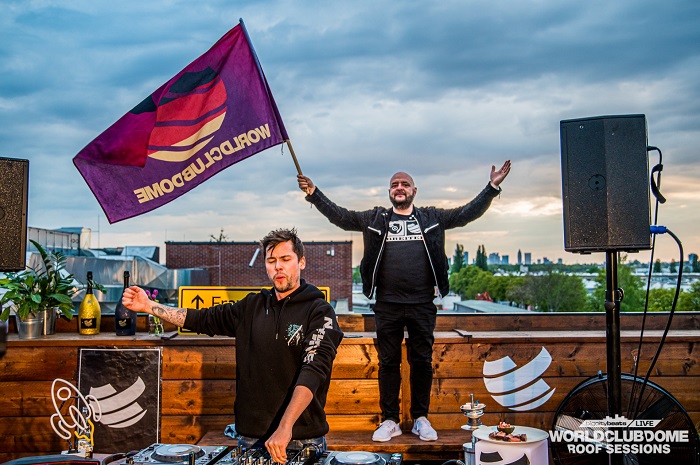 In attendance at the opening ceremony were Eintracht Frankfurt football stars such as Kevin Trapp, Timothy Chandler, Filip Kostic, Gelson Fernandes, Goncalo Pacienca and Marijan Cavar.
Superstar DJs such as Gestört aber GeiL, Le Shuuk and BigCityBeats CEO Bernd Breiter also gathered safely around the centre circle, to watch Lukas Podolski speak live via the stadium's videocube.
Together unified they were supporting Eintracht Frankfurt's 'Auf Jetzt – InEintracht' which is a campaign dedicated to helping people directly affected by the corona crisis.
Following the impressive opening ceremony, chart topping DJ's Gestört aber GeiL plus special guest SDP, and BigCityBeats resident Le Shuuk, DJ'd huge sets live from the Commerzbank-Arena centre circle.
More than 2 million WorldClubbers from across the world tuned in to witness the incredible DJs create musical history.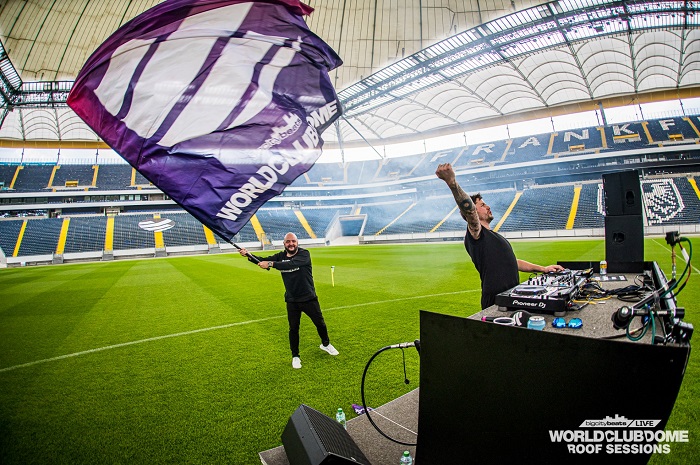 Images were broadcasted through BigCityBeats social media channels through the use of live video cameras and drones. Additionally, some of Europe's largest media brands such as Bild.de broadcasted the live-stream to millions of visitors through their website.
Following the stadium event, the live session moved seamlessly to BigCityBeats HQ – Life Rooftop Sessions, where WorldClubbers had the opportunity to stream another 7.5 hours of spine-tingling club music.
From Frankfurt, BigCityBeats Life Rooftop Sessions ventured across several timezones, to Seoul for DJ Soda, The Netherlands for Ummet Ozcan, Tel Aviv for Vini Vici and finally to Miami for David Guetta. There was even time for an exclusive radio set from the amazingly talented NERVO sisters.
BigCityBeats weren't finished yet however, their Club Kitchen event hosted by celebrity chef Ralf Frenzel and superstar mixologist Bar Philosophy, using recipes available on the WorldClubDome website, created a spectacular food and drink experience for the audience at home.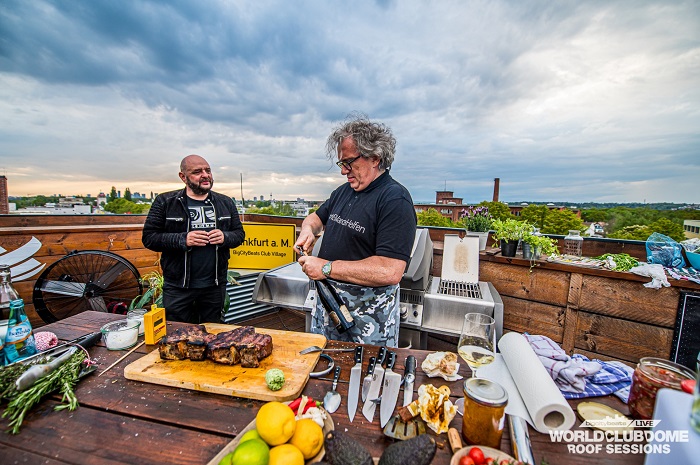 Speaking from the heart, BigCityBeats CEO Bernd Breiter said:
"People are currently feeling uneasy and nervous about the fact that the whole world has changed. I too also felt uneasy when I entered the empty Commerzbank-Arena, which is of course the home of the World Club Dome. But from the moment the beats began, and so many fans had tuned in, I couldn't have been more moved.
This to me was also a signal that large events such as these must be brought back to life. We want to thank Eintracht Frankfurt, the Commerzbank-Arena, the Bild-Zeitung, the DJs and everyone who made this first stadium event during the Corona Crisis possible.
This week BigCityBeats received international recognition for their Life Rooftop Sessions after the renowned Forbes Magazine reported.
For all WorldClubbers wishing to relive the spectacular event, or for anyone wishing to discover the incredible event for the first time, watch the videos below.
Part 1 – Gestört aber GeiL:
Part 2. Le Shuuk:
Part 3 – DJ Soda (from Seoul):
Part 4 – Ummet Ozcan (from Amsterdam) + NERVO (Radioset):
Part 5 – Vini Vici (from Tel Aviv):
Part 6 – David Guetta (from Miami):