The final countdown for the debut Epizode Albania edition is on! Groundbreaking music and art festival kicks off on September 23rd and runs till September 26th in the picturesque location of Rana e Hedhun beach in Shengjin, Albania. Now, Epizode announces SOLOMUN, who will be playing ALL NIGHT LONG on the festival's CLOSING NIGHT, alongside the label mates Adriatique.
The day-to-day breakdown for the stages are also being revealed. With details on where and when the likes of MARCO CAROLA, MICHAEL BIBI, RICHY AHMED, LEE BURRIDGE, ADRIATIQUE, DUBFIRE, BINH, MARGARET DYGAS, PETRE INSPIRESCU, PRASLEA, HECTOR, GUTI, NASTIA, MAAYAN NIDAM, ANFISA LETYAGO, HECTOR, GUTI and many more will all play.
These global DJ superstars will be spinning alongside the finest international and regional talents, such as CHKLTE, DAN ANDREI, DAVID GTRONIC, JANERET, JAVIER CARBALLO, MAHONY and YULIA NIKO, followed by ALBAN HI-DINI, E/TAPE, LIBURN, LEKE, ROUSTAM, TYOMA and ABELLE, to name a few.
Epizode continues to bring the biggest global headliners while showcasing the best regional artists, all shaking the beach for four days and nights of non-stop revelry. The musical bliss will be spread across two specially designed stages, followed by daytime activities in a stunning new location.
Sandy beaches, Mediterranean flora, alluring landscapes and hypnotizing sunsets, as well as local cuisine and hospitality, make this a truly unique festival like none other festival in the world.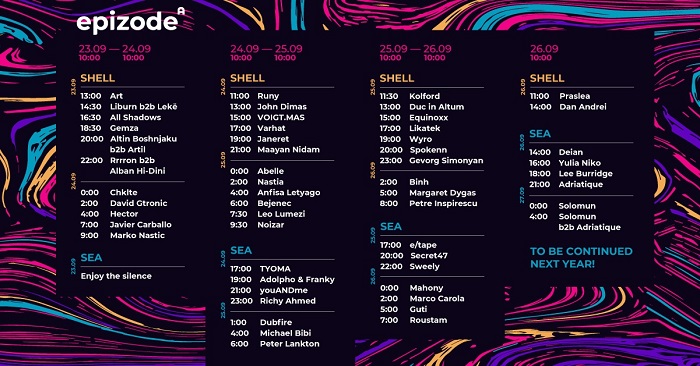 The price of Multi Passes is €119 while the Balkan countries have a special price of €64. Sister Multi Passes are available at €119 and Group Multi Passes at €269. Tickets can be purchased online via Epizode website.
September 23rd launches at 1PM at Shell stage with a wide array of local talents such as LEKE, ALBAN HI-DINI, RRRRON, to name a few. Vatos Locos crew will take over the decks at midnight, featuring HECTOR, DAVID GTRONIC and CHKLTE, followed by Serbian's finest MARKO NASTIC.
September 24th brings Serbia's RUNY, Berlin's JOHN DIMAS and VOIGT.MAS, Yoyaku's VARHAT and JANERET as well as MAAYAN NIDAM to the Shell stage. Techno ladies ANFISA LETYAGO, NASTIA and ABELLE will be throwing their magic after midnight, followed by BEJENEC live and LEO LUMEZI.
Sea stage launches at sunset with Epizode's general producer TYOMA on the decks, who will be warming up for UK's legends RICHY AHMED, YOUANDME and ADOLPHO & FRANKY. Nighttime at Sea stage brings the DJ superstars MICHAEL BIBI and DUBIRE, with the closing set from Moscow's KOLFORD.
September 25th sees a great mix of regional international and regional talents, such as SPOKENN, DUC IN ALTUM, NOIZAR, EQUINOXX, LIKATEK, WYRO live and GEVORG SIMONYAN at Shell. Minimal legends MARGARET DYGAS, BIHN and PETRE INSPIRESCU will be spinning after midnight. The Sea stage will open at sunset with E/Tape on the decks, followed by SECRET47, SWEELY and MAHONY. Global star MARCO CAROLA will be headlining the night, accompanied by GUTI and ROUSTAM.
September 26th brings the Romanian heroes DAN ANDREI and PRASLEA, while the last sunset will bring All Day I Dream's founder LEE BURRIDGE, accompanied by YULIA NIKO, MASHKOV and DEIAN. The Diynamic label boss and one of the biggest electronic music legends – SOLOMUN, who will be playing his magnificent ALL NIGHT LONG SET, first solo and then with the label mates ADRIATIQUE.