In light of the Dutch government's decision to allow events to continue with a maximum of 75% capacity and a mandatory closing time between 00:00 and 06:00, the world's leading indoor harder styles event, Qlimax is set to return on November 20th, at the Gelredome in Arnhem, The Netherlands.
With a brand-new immersive show experience that will take fans on a journey like never before, Qlimax are putting on a jaw-dropping production for their highly-anticipated return after postponing last year's edition.
For the first time ever, Qlimax will take place during the day, from noon until 11PM, with a maximum capacity of 75%. Hardstyle fans are invited to embrace their destiny at Qlimax The Reawakening and dance into the unknown.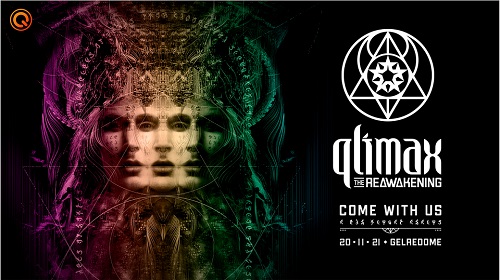 Jonas Schmidt, Creative Director of Q-dance, says:
"Qlimax is our longest running event. We're glad that we're able to continue this sacred tradition after being prohibited to organise it physically last year. Our whole team has been working for months to create a unique new Qlimax experience and we can't wait to show our fans what we have in store for them."
While the line-up announcement will follow, tickets for Qlimax The Reawakening will be available on shop.q-dance.com on October 2nd, 1PM CEST and the travel sale will start on September 25rd, 1PM CEST.
In case Qlimax The Reawakening gets cancelled due to additional restrictions by the Dutch government, all ticket buyers will be automatically refunded.