Sunnery James & Ryan Marciano have recently been getting a lot of plaudits for giving talent a chance via their 'The Tribe' compilation series, and that recognition only motivated the Dutchmen to do more for the next generation of dance music. Today, the pair released 'Better Things', a new single that puts the limelight on the upcoming talent featured on the record: GINGE and QG.
Brimming with confidence and gumption, Sunnery James & Ryan Marciano's 'Better Things' comes with a take-it or-leave-it attitude that instantly supercharges the dance floor. Flaunting a strong, vivacious production that effortlessly caters to the vocal narration of GINGE and QG, this track is an anthem for all who don't just sit around waiting for life to come around.
Sunnery James & Ryan Marciano are the archetypal mainstays of the dance music scene. With almost two decades of scene experience under their belt, they're enjoying global success with songs such as 'Savages' (19 million streams), 'Life After You' and recent addition 'Summer Thing' (with Dragonette, Cat Dealers and Bruno Martini), are cultivating their trademark sound through their own SONO imprint and frequently travel the world with their Sexy By Nature concept, which has a radio show spinoff that reaches millions of dance music fans on a weekly basis.
Coupled with pre-COVID headline slots at the world's biggest festivals (e.g. Tomorrowland, Ultra Europe and Balaton Sound), the Amsterdam-based duo are undoubtedly amongst the most consistent and prolific house acts of the moment.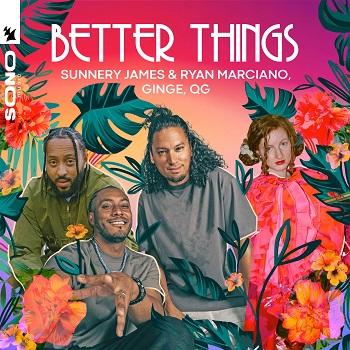 Prior to getting noticed by Sunnery James & Ryan Marciano, Dutch act GINGE was selected for the Dutch Popronde and got featured on national outlet 3voor12. QG, the Manchester-based, up-and-coming talent that completes the collaborative trifecta, hooked up with Sunnery James & Ryan Marciano during the pandemic to write and produce song together, and even joined the duo on stage to test out some of their new material. While 'Better Things' readily proves a solid starting point, there's much more to come from these sensational talents in the near future.
Listen to the track below.