The Chainsmokers and The Kid LAROI are the first headliners to be announced for the First Annual Afterparty NFT Art and Music Festival. On March 18 and 19, NFT art, music and a creator-led Web3 community will collide in Las Vegas for the world's first token-gated festival – NFTs are the "ticket" in.
An additional 25 supporting music acts and more than a dozen world-class NFT artists will join The Chainsmokers, who just released their first single "High" off of their highly anticipated new album, and The Kid LAROI as part of the two-day lineup. The festival is produced in partnership with former Life is Beautiful partner, Ryan Doherty, and former Kaaboo executive, Chris Racan. The full music and NFT artist lineup will be announced in early February.
Standout NFT artists, Nate Mohler and Alec Maassen, are co-creative directing the NFT art program that will transport guests into an immersive, interactive experience. For the first time NFTs will be showcased as the festival centerpiece to celebrate the NFT movement in-real-life.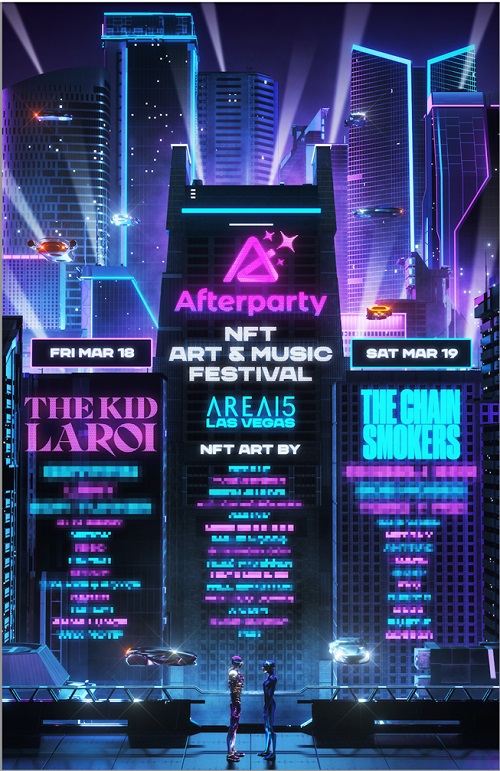 Afterparty has chosen AREA15, an immersive event and entertainment district located minutes from the Strip in Las Vegas, for a multi-venue, multisensory experience. Digital art will captivate and guide guests through an experiential journey of NFT art shows, live music performances and metaverse experiences.
Digital art gallery activations will feature Afterparty's Utopian NFTs and other innovative digital art pieces. Far from being thumbnails on OpenSea, these pieces will come to life via human-scale 4K and 8K displays to transform your typical gallery into a multilayered intersection of imagery, sound, light and space.
Afterparty's generative Utopian NFT collection doubles as digital art and "all-access" festival passes. Because these NFTs are designed to have intrinsic value, they unlock tangible, real-world experiences in the metaverse and in-real-life, such as exclusive artist-level connection at the festival and beyond.
Each of the collection's 1,500 NFTS are completely unique, exclusively live-minted and live on the Ethereum blockchain forever. Sia, Just Maiko and jxdn are among the first creators to live-mint Afterparty's NFTs at a secret location in the Hollywood Hills.
Each NFT holder will be able to bring one guest and will have two passes to invite friends or sell.
The party doesn't stop in Las Vegas. Afterparty's Utopians act as "memberships" that unlock access to the community and more experiences, including the Afterparty Super Bowl Weekend Event, NFT art gallery showings at the Afterparty House, the Afterparty Pop-Up House at Art Basel 2022 and more unveils coming soon.
David Fields, Afterparty co-founder and CEO: "The crypto world can seem like the next Wall Street. We see it as unlocking the Art Basel and Coachella of tomorrow. The Afterparty Festival is the coming together of the Web3 community that captures innovation and the arts that uplift, inspire and unite us all. Whether you're a crypto titan, performer, creator or fan, Afterparty is your community to experience the real and authentic merging of human connection, NFT art and creative expression."
Chris Racan, former Kaaboo senior executive and Afterparty festival production partner: "This festival centers around NFT artists and their art in a multimedia forum that will showcase the future and experiential value these NFTs hold. In my time as an event producer, I've never been part of an event that so completely empowers creators to showcase 21st-century creativity. It's time we celebrate the excitement around digital art, music and the creator economy and I couldn't be prouder to partner with Afterparty to bring all of this to life."
Ryan Doherty, former Life is Beautiful partner and Afterparty festival production partner: "NFT art deserves to be seen and celebrated through an experience that is just as innovative as the NFT art itself. We're creating a festival that captures that energy and enthusiasm that fits into a future-ready environment that intensifies the impact these pieces have on the viewer."
To learn more about Afterparty and the festival lineup, head to afterparty.ai/festival.