When Lulleaux joined with Jay Mason in 2021, the Be Yourself Music beauty 'Your Smile' had you walking on air with its rhythms jumpstarting your heart.
Leandro Da Silva decides it's time to pump up the volume and get you grinning to something a little grittier. So those shiny happy people who swam in the glory of the original now find themselves in swampier, louder territory, thanks to Da Silva throwing generous sprawls of good-natured bass and friendly fire laser beams into the mix.
Lulleaux and Mason are in good hands: Leandro Da Silva has entered the conversation when DJ Mag list their world's greatest spinners, and he's become a staple on the 1001tracklists annual countdown of top producers. The globetrotting Da Silva, the man behind Black Lizard records giving the sets of Pete Tong, Martin Garrix and Bob Sinclar something extra, has remixed Oliver Heldens and Clean Bandit, and swept all before him on Spotify when taking charge of David Guetta & Sia's 'Flames'.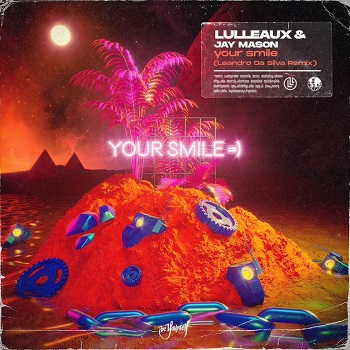 Lulleaux is in demand with a capital ID: Sam Feldt, Cimo Fränkel, Hero Baldwin, songfestival winner Duncan Laurence and more have helped raise his appearances on Be Yourself Music, Spinnin Records, Hexagon and Sony, with remixes for Tiësto and Benni Benassi. His crowning glory so far has been 'Contact', posting ridiculous numbers to get streaming statisticians scrambling.
The same can be said for Jay Mason: streamed 50 million times to date on Spotify, the reputation of the Netherlands vocalist has blown up big time from humble beginnings as a bedroom singer-songwriter. Fedde le Grand and Blasterjaxx are the kind of influential company Mason now keeps.
For a trio with an online buzz few can match, this new and boosted version of 'Your Smile' should add a few more zeros to the counter.
Listen to the track here.