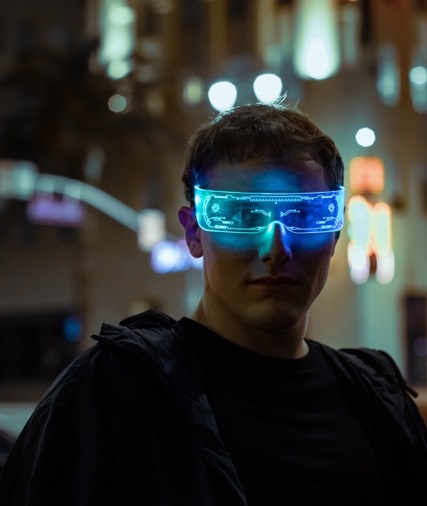 Cyazon continues to make a ripple in the Electronic music scene, the talented DJ and producer shows off his skills and talents with each release. His characteristic sound, a mix of futuristic elements and cyberpunk aesthetic, comes across in his latest production 'Netrunner' featuring musician Becko.
Now, Cyazon let us in on the behind-the-scenes process of 'Netrunner' and told us what's coming up next for him.
Hello Cyazon! How are you?
Hello! Doing great, thanks for asking.
Can you walk us through the process of working on 'Netrunner'? How did the production start?
I started on creating the main synth melody. I was playing on my keyboard and found a nice melody line that I liked. I then found a nice bass pulse for the intro too. I added melodic atmospheres as well afterwards. The pre-chorus came pretty easy since I added an additional bass and percussion impacts.
For the drop, I filled in the spots with bass fills where it felt empty. I used the main bass to carry the main focus for the song. For the main bass, I heard in my head the pitch changes I wanted for the bass throughout. The song pretty much finished itself from left to right.
Are there any specific influences or references you used for the track?
From my memory, I was just trying to create a dark dystopian atmosphere. Other than the Bladerunner vibe I typically try to go for, not really.
Did you find any new processes, sounds or elements while working on the track?
Definitely a new process whenever a label requests a different main bass sound. Initially I really liked how my original main bass in the chorus/drop sounded. But then I ended up tweaking a preset I made from before and that's how I figured that out. Other bass fills throughout I discovered while doing a bass sound design jam, which is when you use one sound and put a lot of different effects to get interesting glitches/tones out of it.
How did the collaboration with Becko came about? How was working with him?
I remember emailing him the song to see if he wanted to work on it. I also gave him the story behind the song and the vision too. The lyrics he did definitely painted the picture for the listener for Netrunner. Working with him was great. His vocal effects helped a lot with finalizing the vocal, giving it the cyberpunk vibe. Genuinely a nice guy with a unique vision for sure.
How long did it take you to finish this song?
It took me about 1 year to finish the song. I already had the production done, and I was trying to find the right vocalist for it. Half the time was spent polishing the mixing and master of the song, and replacing certain sounds.
What was your favorite part of the production process?
I would say working with Becko's vocal and replacing the main bass sound. Replacing it was a fun challenge since I didn't know how it would come out, but it ended up working out.
Can you describe the song to someone who hasn't heard it before?
Imagine being put in a scene of the movie Tron Legacy or Blade Runner. Futuristic sounds and rock/screamo vocals. I think that best describes the song.
What are you currently working on?
I'm working on new music, and trying to explore different genres.
Any upcoming releases or performances you are looking forward to?
I have another release with Becko called 'Artificial Tears coming' out on FiXT on May 20th. That's all I have planned for right now.
Listen to the track below.